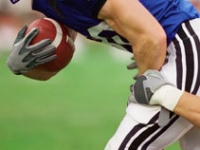 On Sunday afternoon, the New Orleans Saints try to make it two wins in a row as they travel to Florida to take on the Tampa Bay Buccaneers. Gametime in Raymond James Stadium in Tampa is scheduled for 1:00 PM ET, with regional covered to be provided by FOX.
The Saints should be well-rested after their bye in Week 6, but are coming off of their first win of the season in Week 5. They defeated the San Diego Chargers, 31-24, in the Superdome. In that one, QB Drew Brees broke Johnny Unitas' NFL record by throwing a touchdown pass in his 48th straight game. The Saints as a whole did well, holding a 351-310 edge in passing yards, and forcing two Chargers turnovers. Brees threw 29-of-45, for 370 yards, and 4 touchdowns.
The Buccaneers are coming off of their own win last week, defeating the Kansas City Chiefs, 38-10. With this win, Tampa Bay snapped a three-game losing streak. The Bucs dominated the game, holding a 463-260 edge in offensive yards, including a 318-180 edge in passing yards. They also forced 2 interceptions from the Chiefs, while shutting them out in the first and third quarters. QB Josh Freeman threw 15-of-26, for 328 yards, and 3 touchdowns.Start your NFL Gambling on Cowboys vs. Panthers Game.
The Saints are 11-3 ATS as favorites or dogs of fewer than 3 ½ points. They are 6-0 ATS as road favorites of fewer than 5 ½ points and playing an opponent in their division. They are 2-3 ATS on the year so far, and 0-1 ATS as a road favorite. The Bucs are 1-4 ATS against opponents from the NFC South, but 4-0 ATS following a SU win of more than 14 points. They are 4-1 ATS on the season, and 1-0 ATS as a home underdog.
These two teams have met 21 times since 2001, with the Buccaneers winning 11 games to the Saints' 10. Their last meeting, in November 2011, resulted in a 27-16 Saints victory. In that one, the Saints were 9 point favorites. In an October 2011 matchup, the Bucs won 26-20, after New Orleans was favored by 6 points. Check the NFL Betting Lines for Cowboys vs. Panthers Game.
For this weekend's matchup, the Saints are listed by sbgglobal.eu Sportsbook as 2 ½ point road favorites. The over/under is set at 49 ½ points.
Open an Account for the best Sportsbook Parlay and Vegas Teaser Payouts in the Industry.
Check the Game Podcast