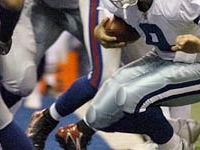 On Sunday afternoon, the Tennessee Titans travel to Houston as they attempt to end the Texans' undefeated season. The game is scheduled to kick off at 1:00 PM ET in Reliant Stadium, and you can watch all of the action regionally on CBS.
The Titans come into this game after winning at home over the Detroit Lions, 44-41, in overtime. While the Lions held a 583-437 edge in offensive yards, and held the ball for 13 more minutes than the Titans, they could not capitalize. Tennessee was up 20-7 by halftime, and it took a wild fourth quarter from both teams to end in a tie. In the extra period, the Titans kicked in a field goal to take the lead for good. QB Jake Locker threw an efficient game, going 29-of-42, for 378 yards, and 2 touchdowns. WR Nate Washington had a great showing, running for 112 yards on just 3 catches, scoring a touchdown of his own. Start your Football Wagers on Chargers vs. Chiefs Game.
The Texans are just one of three still-undefeated teams in the NFL, after winning 31-25 over the Broncos in Denver. The game was well in hand after three quarters, with Houston up 31-11, but the Broncos narrowed the gap with a 14 point fourth quarter performance. The Texans held a 436-375 edge in offensive yards, including a 152-59 edge in rushing yards. QB Matt Schaub had an efficient game, throwing 17-of-30, for 290 yards, and 4 touchdowns. This is the first time in franchise history that the Texans have started a season 3-0.
The Titans are currently on a 1-6 slide ATS. They are 1-2 ATS on the season, and 0-1 ATS as an away underdog. The Texans are 13-2 ATS recently, and 6-1 ATS in September games against division opponents. They are also 6-1 ATS against division opponents when favored by more than 4 points. So far this season, Houston is 3-0 ATS, and 1-0 ATS as the home favorite. Check the Football Wagering Lines for Titans vs. Texans Game.
These two teams have met 20 times since 2001, with the Titans leading the series 14-6. A January 2012 meeting resulted in a 23-22 Tennessee victory, where the Titans were favored by 2 points. In an October 2011 matchup, Houston routed the Titans, 41-7, although Tennessee was a 3 point favorite.
For this Sunday's game, the Texans are 12 ½ point home favorites from sbgglobal.eu sportsbook. The over/under is set at 45 points.
Open an Account for the best Sportsbook Parlay and Vegas Teaser Payouts in the Industry.
Check the Game Podcast: