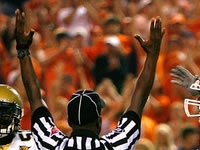 The Vikings of Minnesota sail their ship to the coast of the Pacific Ocean to meet up with the San Francisco Forty Niners on Friday in another NFL preseason opener. Kickoff is scheduled in Candlestick Park at 9:00ET.
It was ugly for Minnesota as they endured their worst season in 51 years a year ago, finishing up at 3-13 and last in the NFC North standings. For all that, not much has changed on the team heading into the 2012 campaign.
Leslie Frazier returns as their head coach and Christian Ponder will get a chance to prove he can save this franchise as their starting QB. Sage Rosenfels will backup Ponder and likely see most of the action on Friday.
Look for Vikings first round pick Matt Kalil to see alot of action protecting Ponder and Rosenfels from left tackle. Offensive pieces were also added at wide receiver with Jerome Simpson and at tight end with John Carlson.
Adrian Petersen will not play, since he has yet to return to practice after suffering a torn ACL last year. Defensive end Jarrod Allen will be around however, to raise his usual havoc.
San Francisco was probably the NFL's best team not in the Superbowl last year. They posted a 13-3 record in head coach Jim Harbaughs first season and finished atop the NFC West. They took the eventual Superbowl champ Giants to overtime in the NFC Championship game.
Two of those Giants now join last years enemy as both Brandon Jacobs and Mario Manningham signed with San Francisco in the offseason. They also signed a player familiar to the Vikings fans, named Randy Moss.
Past that, they have twenty of their twenty two starters under contract beyond this season. Harbaugh has tutored Alex Smith well as the starting QB. Look for second year passer Colin Kaepernick to get most of the snaps from center against the Vikings, sharing time with free agent Josh Johnson who played for Harbaugh at the University of San Diego.
San Francisco is a 3 point home favorite at a -$110. The over/under of 34.5 total points is also on a $110/$100 moneyline.
Open an Account for the best Sportsbook Parlay and Vegas Teaser Payouts in the Industry.
Check the Game Podcast: