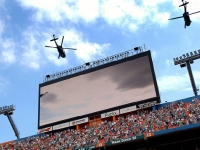 The final week of the NFL season is upon us. Some games mean a lot and some don't. The San Diego Chargers visit to the Oakland Raiders is a game that definitely means something to one team and it isn't the Chargers.
The Oakland Raiders come into the game tied for first in the meek AFC West with an 8-7 record, the same as the Denver Broncos. The teams split their two games this year, so a tie will result in the NFL tie breaker system kicking in and dictating that the Broncos would win if both teams finish 9-7. Of course, both have to get their first, which means the Raiders need to focus on the Chargers. Check the NFL Odds for San Diego Chargers vs. Oakland Raiders game.
The Raiders come into this game having righted their season with an overtime victory over the Chiefs in week 16 in Kansas City. The team is still missing uber running back Darren McFadden, but Michael Bush has filled in nicely for him in developing a power running attack. This has allowed the offense to start showing a serious deep threat through play action pass.
The San Diego Chargers come into the game as a team in turmoil. They've been eliminated from the playoff race already and just suffered a humiliating blow out loss in Detroit. Rumors abound that head coach Norv Turner will be fired with General Manager AJ Smith potentially following him as well. The only reason the Chargers have to play hard in this game is their rivalry with the Raiders. Given the turmoil in the organization, that may not be enough. Start your Football betting action on San Diego Chargers vs. Oakland Raiders game.
The Raiders are favored by 3 points in this game, which is rather odd since they have so much to play for and are playing at home. Could the Chargers spring an upset? Absolutely, but it is going to require the Raiders turning over the ball a lot. I doubt that will happen. Instead, look for the Raiders to pound the ball into the Chargers defensive line in an attempt to break the will of the defenders. Considering the Chargers showed a lot of quit in last weeks game, that seems like a very good strategy. Expect to take the Raiders to take this game comfortably regardless of what the odds makers are saying.
Open an account for the best Sportsbook Parlay and Vegas Teaser Payouts in the Industry.