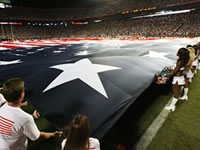 On late Sunday afternoon, the Oakland Raiders travel to the Midwest to take on the Kansas City Chiefs. Gametime in Arrowhead Stadium in Kansas City, MO, is scheduled to begin at 4:05 PM ET. You can watch all of the action regionally on CBS.
The Raiders come into this game off of a win at home in overtime over the Jacksonville Jaguars, 26-23. Down 23-13 in the fourth quarter, the Raiders scored a field goal and a touchdown to push the game into overtime. They scored another field goal in the extra period to secure the victory. Oakland held a 20-10 edge in first downs, and a 351-209 edge in offensive yards. They committed 3 turnovers, including 2 lost fumbles and 1 pick. QB Carson Palmer threw 26-of-46, for 298 yards, and 1 touchdown. Start your NFL Bets on Raiders vs. Chiefs Game.
The Chiefs had Week 7 off, but are coming off of a 38-10 loss on the road to the Tampa Bay Buccaneers. In that one, the Bucs held a 463-260 edge in offensive yards, including a 318-180 edge in passing yards. Backup QB Brady Quinn threw 22-of-38, for 180 yards, and 0 touchdowns. Starting QB Matt Cassell was out of this game after suffering a concussion, but is listed as probable for this weekend. In their last two games, the Chiefs have failed to score an offensive touchdown.
In this series, the road team is 11-1 ATS. The underdog is 8-1 ATS in Raiders games. Oakland is 2-4 ATS on the season, and 1-1 ATS as an away underdog. The underdog is 15-6 ATS in Chiefs games. Kansas City is 0-10 ATS as favorites and playing an opponent in their division. They are 2-4 ATS overall, and 1-2 ATS at home this year. This will be their first game as a favorite. Check the NFL Odds for Redskins vs. Steelers Game.
These two teams have met 22 times since 2001, with the Chiefs holding a 13-9 series edge. Their last meeting, in December 2011, resulted in a 16-13 Raiders victory. In that one, the Chiefs were 2 ½ point favorites. In an October 2011 matchup, the Chiefs won 28-0 in a game in which the Raiders were 3 ½ point favorites.
For this Sunday's game, the oddsmakers from SBG Global's sportsbook have it listed as a pick'em. The over/under is set at 41 ½ points.
Open an Account for the best Sportsbook Parlay and Vegas Teaser Payouts in the Industry.