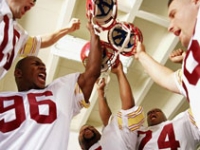 After a long break, the Dallas Cowboys travel to Seattle to take on the Seahawks this Sunday evening. The game in CenturyLink Field in Seattle, WA is scheduled to kick off at 4:05 PM ET, and will be televised regionally on FOX.
The Cowboys come into this game after winning their Wednesday night road opener against the New York Giants, 24-17. The Cowboys held a 433-269 edge in offensive yards, as QB Tony Romo threw for 3 touchdowns. Romo had an efficient night, throwing 22-of-29, for 307 yards. WR Kevin Ogletree also had a good night, receiving for 114 yards, and 2 TDs. Start your Football Gambling on Cowboys vs. Seahawks Game.
The Seahawks, on the other hand, lost their home opener to the Arizona Cardinals in a close game. Able to score only 1 TD, the Seahawks lost 20-16. QB Russell Wilson had a less-than-impressive showing, throwing 18-of-34, for 153 yards and the team's only TD. That's 4.5 yards per pass, to go along with getting sacked 3 times. RB Marshawn Lynch had 85 yards on 21 carries, and Seattle held a 115-43 edge in rushing yards, but there were few other bright spots for the Hawks.
The Cowboys won both SU and ATS in their Week 1 opener as the road underdog. In fact, the underdog is 19-4-1 ATS in Cowboys games. Seattle lost both SU and ATS in their opener last week. They are just 2-8 ATS against NFC East opponents, but have put together a 7-2-1 and 10-3-1 ATS run since the 2011 season. Check the NFL Betting Odds for Cowboys vs. Seahawks Game.
These two teams have met 8 times since 2001, with each team winning 4 games. Their last game, in November 2011, resulted in a Cowboys win, 23-13. In that one, Dallas was favored by 11 points, just missing covering. In November 2009, the Cowboys were 9 ½ point favorites, defeating the Hawks 38-17 and covering. In November 2008, Dallas again favored, this time by 12, winning 34-9 and easily covering.
For Sunday's game, the Cowboys are a 3 point favorite over the Hawks. The over/under is set at 41 ½ points.
Open an Account for the best Sportsbook Parlay and Vegas Teaser Payouts in the Industry.
Check the Game Podcast: