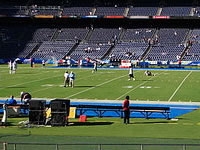 Week 17 of the NFL Season is always full of trap games. The game between the Detroit Lions and Green Bay Packers in Green Bay is one such game.
The Detroit Lions have had a renaissance season. Not only do they have a winning record, but they have already qualified for the postseason with a victory over the San Diego Chargers this past week. Having said all that, however, the Lions pale in comparison to the Packers who are 14-1 and already beat the Lions 27-15 in Detroit earlier in the season. Everything says this should be a Packers win, but one has to wonder why oddsmakers are making the Lions a 3 point favorite in the game. Start your NFL Betting action on Detroit Lions vs. Green Bay Packers game.
The Packers come into this game with the number one seed in the NFC for the playoffs. Win or lose, they will be the number one seed so the Packers have nothing to play for. Given this, all indications are the team will rest major players on its offense and defense. For instance, stud quarterback Aaron Rodgers may play only the first quarter. This is particularly true as the team tries to get rest for its battered offensive line. All and all, the Packers appear to be ready to sleepwalk through this game. Check the NFL Lines for Detroit Lions vs. Green Bay Packers game.
The Lions are taking a different approach. Although the team has qualified for one of the two wild cards in the division, it is now seeking to get the highest seed [5th] possible. The advantage of this higher seed would mean the Lions would play a weaker choice of division winners depending on the outcome of the other games in week 17. That could be the difference between being one and done in the playoffs or making a deep run. All and all, the Lions will be highly motivated for this game.
Open an account for the best Sportsbook Parlay and Vegas Teaser Payouts in the Industry.