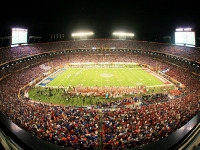 Week 15 of the NFL will see the Detroit Lions visiting Oakland to play the Raiders. This is shaping up to be a crossroads game as both teams are competing for a playoff berth. The Lions are 8-5 and looking for a wild card spot as the undefeated Packers have already won the division. The Raiders at 7-6 are only a game behind the Broncos in their division and cannot afford to lose any more games this season. The loser of this game will not be eliminated from the playoffs, but they will be considered a long shot as their chances will become mathematical.
Detroit is a difficult team to gauge. They have had five losses, but they have come against the better teams in the league. Three games back the Lions lost, but were not humiliated by the champion Green Bay Packers. Two games back they put up a credible effort against the Saints, another strong team. However, in their last game they struggled to defeat the Vikings, a team that has only mustered two victories this year. Start your NFL Betting action on Detroit Lions vs. Oakland Raiders game.
The Raiders have lost two straight games. Two games back they lost to the Dolphins; a game they should have won if they are truly a playoff contender. Their last game they lost to the Packers. Although nobody has beat the Packers this year, the Raiders didn't put up much of a fight. Green Bay won easily. Looking at both the Raider's and the Lion's effort against Green Bay, it is clear that the Detroit Lions are a better team. NFL odds for Detroit Lions vs. Oakland Raiders game.
At the time of this writing there have been no key personal changes, although the Lions will be getting their defensive tackle, Ndamukong Suh, back from a suspension that lasted two games. The opening line was Raiders -1. Currently the sportsbook has the Lions at -1. Basically the betting crowd is saying it is a coin flip, but the Lions seem to be a strong wager in Week 15.
Open an account for the best Sportsbook Parlay and Vegas Teaser Payouts in the Industry