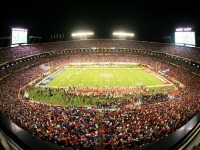 On Sunday afternoon, two teams with losing records meet in Florida as the Kansas City Chiefs pay a visit to the well-rested Tampa Bay Buccaneers. The game is scheduled to begin at 1:00 PM ET in Raymond James Stadium in Tampa, FL, with all of the action to be televised regionally on CBS.
The Chiefs come into this game after a low-scoring loss to the Baltimore Ravens, 9-6. It was a battle of field goals, as neither team scored a touchdown. The Chiefs held edges in total yards at 338-298, and rushing at 214-133. However, the Ravens forced 4 KC turnovers, including two lost fumbles and two interceptions. QB Matt Cassel threw 9-of-15, for 92 yards, before leaving the game in the fourth quarter with a concussion. Through their first five games of the season, the Chiefs have committed 19 turnovers.
The Buccaneers had Week 5 off, but suffered a loss to the Washington Redskins in Week 4, 24-22. In that one, Tampa suffered a 474-373 deficit in total yards, including a 153-80 deficit in rushing yards. The Skins also held a 27-16 edge in first downs, and forced a Bucs interception. With all that said, the Bucs were still up 22-21 with 1:42 remaining in the fourth quarter. A Washington field goal with 3 seconds remaining gave them the victory. Tampa Bay is ranked 30th in both offense and defense so far this year, with QB Josh Freeman at 5 touchdowns and 6 interceptions on the year. In their last 5 home games, they have suffered a 140-81 point deficit. Start your Football Wagering on Chiefs vs. Buccaneers Game.
The underdog is on a 15-5 spread run in Kansas City games. The Chiefs are 9-0 ATS against opponents from the NFC after suffering a loss. They are 2-3 ATS on the season, and 1-1 ATS as the away underdog. The Bucs are 4-12 ATS recently. They are 3-1 ATS on the season, and 0-1 ATS as the home favorite.
These teams have met just twice since 2001, with Tampa Bay winning both of those games. Their last meeting, in November 2008, resulted in a 30-27 Bucs victory, in a game in which they were favored by 9 points. In a November 2004 matchup, the Bucs won 34-31, after the Chiefs were favored by 3 points. Check the Football Odds for Chiefs vs. Buccaneers Game.
For this Sunday's game, the Buccaneers are 3 point home favorites, according to the SBG Sportsbook NFL odds page. The over/under is set at 40 points.
Open an Account for the best Sportsbook Parlay and Vegas Teaser Payouts in the Industry.
Check the Game Podcast: