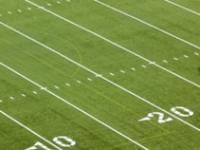 All's well that ends well and the end was looming as the Chicago Bears reached an agreement with Matt Forte on a long term deal to keep the versatile back in a blue and orange uniform for the next four years. After months of negotiations and threats by Forte to hold out during training camp and possibly even the regular season, the pact was agreed upon just prior to the 3PM deadline on Monday.
Chicago had chosen to franchise him which would keep Forte in the teams control for at least one more season at $7.74 million. Not bad for a guy just completing a rookie deal worth a total of $3.8 million over four years. Check the NFL Odds for the 2012 NFL Season.
But, of course, Forte was looking for security through guaranteed money. With his new deal, Forte will realize a two million dollar raise this year ($9.8M) including a signing and roster bonus. The all important guaranteed funds are believed to be $17.1 million. The base amount is $28.1 million and the entire agreement with incentives may be worth $31.5 million over the four years.
Chicago still has some business to attend to, with Brian Urlacher's contract expiring after this season and Jay Cutler possibly seeking an extension to his agreement. First things first, however, and having Forte in camp when it opens July 25 was a priority for the Bears.
Chicago feels if Jay Cutler can remain healthy, albeit, behind a still somewhat shaky offensive line and with the addition of Brandon Marshall as a target, the Bears can compete for a Super Bowl berth once again. Start your NFL Betting action on the Chicago Bears at SBG Global.
Even with Marshall's presence, Forte will be an important factor, both on the ground, backed up by newly acquired RB Michael Bush, and out of the backfield on pass plays. Forte has career marks of 4,233 yards running the football and 1,985 catching it. During his first 4 years, he's the only player to run for nine hundred yards and catch passes totaling 400.
The Bears odds to win the 2013 Super Bowl are +2450 right now, down from +2550 just a day ago before the Forte signing. The team is +1550 to win the NFC Championship. Keep an eye on the NFL Futures odds throughout the offseason as teams keep making moves.
Open an account for the best Sportsbook Parlay and Vegas Teaser Payouts in the Industry.