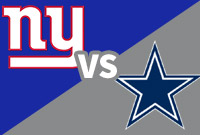 NFL betting fans who root for
the Dallas Cowboys
suffered quite a blow when news got out that (ex) starting QB Tony Romo sustained a compression fracture to the L1 vertebra in his back and that will miss between 6-10 weeks of playing time. Not quite as bad as the literal blow that Romo actually took, but still. Here are the
football betting odds
for their regular season opening game against the New York Giants:
Giants +1 (-110) 46 (-110)
Cowboys -1 (-110) 46 (-110)
In light of Romo's injury,
rookie QB Dak Prescott
will be starting under center on Sunday, September 11th – the first Cowboys rookie to do so since Quincy Carter in 2001. Dallas selected Prescott in the fourth round of the 2016 NFL Draft by with the 135th overall pick. Prescott completed 734 of 1169 passing attempts (62.8%) for 9376 yards and 70 TDs, and rushed 2521 yards for 41 touchdowns in four years Mississippi State Bulldogs. Furthermore, he completed 39 of 50 attempts for (78%) for 454 passing yards with 5 TDs and 2 interceptions in three preseason games. In his new status as starting QB, Prescott sat out the final exhibition game, which the Cowboys lost to the Houston Texans 28-17.
Meanwhile, the Giants had a confidence-boosting win over the New England Patriots, in what will be the last we see of Tom Brady for five weeks. Giants backup QB Ryan Nassib tossed a 59-yard touchdown pass to wide receiver Tavarres King for the and set up a 25-yard field goal by kicker Randy Bullock. Third-tier QB Logan Thomas threw a 17-yard fourth quarter TD pass to WR Roger Lewis Jr. The NY team beat a Pats team with Brady playing the first half. Does this mean they are the NFL betting favorites when they face a Romo-less Cowboys?
In addition – or should that be in subtraction – to Romo, LB Rolando McClain, and defensive ends DeMarcus Lawrence and Randy Gregory are all currently suspended for violating the league's substance abuse policy. So the defense is looking pretty bad for the Cowboys, but at least the offense should be in pretty good hands, provided that Prescott keeps up the good work and fellow rookie running back Ezekiel Elliott lives up to the hype. Also, Dez Bryant – unlike Romo – has managed to remain healthy. Not to harp on it, though, but it's hard not to see the Giants taking advantage of a weakened Dallas defense.
Starting QB Eli Manning threw 387 of 618 (62.6%) for 4436 passing yards and 35 TDs in 2015, while wide receiver Odell Beckham Jr. had 96 catches for 1450 receiving yards and 13 touchdowns last season. defensively speaking, returning defensive end Jason Pierre-Paul and fellow DE Olivier Vernon – a former Dolphin whom the Giants signed as a free agent – could potentially produce a consistent pass rush and thus improve a defense that ranked last in total yards allowed and 31st in scoring defense in 2015. All things considered, the
NFL betting
odds should favor the Giants.