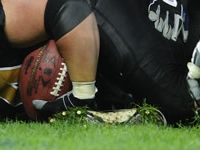 The Philadelphia Eagles will make the short flight to Boston to meet up with the New England Patriots on Monday night. The game will be played at Gillette Stadium in Foxboro, Mass. beginning at 8:00ET. This is, of course, Monday Night Football and if you're ready for some, you can watch all the action nationally on ESPN.
It will be interesting to see how Eagles head coach Andy Reid schemes this game. Normally, Game 3 of the preseason is when starters get their most thorough workout before being given the last exhibition game off in preparation for the regular season opener. However, in a scheduling quirk, the Eagles week three opponent is the Cleveland Browns, who they meet in the regular season opener Sept. 9th. Besides that, the game is on Friday, with just 4 days of rest in between. Start your Monday Night Football Betting action on the Eagles vs. Patriots game.
With that, look to see Michael Vick, who is listed as probable and the rest of the Eagles regulars on the field at least for the entire first half and possibly beyond against the Patriots. Don't look, however, for Mike Kafka to backup Vick, since he broke his hand last week. That role now falls to third stringer Nick Foles. The rest of the Eagles starters on offense such as LeSean McCoy, DeSean Jackson and Jeremy Maclin should be willing and ready to go.
There's not much to say about the Superbowl runner up Patriots coming off their uninspired 7-6 win over New Orleans in week one. Reports indicate they are fighting amongst themselves more in practice than the effort they showed against the Saints. So maybe they'll be ready to hit an opponent instead of one another by the time Monday night rolls around.
Tom Brady appeared for only two possessions in the opener and suffered a sack and a forced fumble for his trouble. Pats TE Rob Gronkowski was back on the field after offseason ankle surgery. Check the Monday Night Football Odds for the Eagles vs. Patriots game.
New England is a 1 point home favorite at a -$110. The moneyline is also set at a -$110 on the under/over of 40.5 points.
Open an account and enjoy Up to 265% in Bonuses.
Check the Game Podcast: