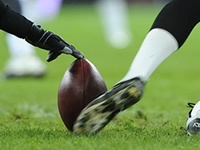 Monday Night Football in Week 9 features two great quarterbacks and two disappointing teams, as the Philadelphia Eagles pay a visit to the Superdome to take on the New Orleans Saints. Gametime in the Mercedes-Benz Dome is scheduled for 8:30 PM ET, and you can watch all of the action on ESPN.
The Eagles became the latest victim of the undefeated Atlanta Falcons, losing at home 30-17. The Falcons scored on their first 3 possessions, and were up 24-7 by halftime. The Eagles suffered a 24-20 deficit in first downs, and a 392-270 deficit in offensive yards. On the positive side, they did not commit any turnovers against Atlanta. QB Michael Vick threw 21-of-35, for 191 yards, and 1 touchdown. Vick is at just 9 touchdowns and 8 interceptions on the year. Over the last 3 weeks, the Eagles have suffered a combined 420-241 deficit in rushing yards. Start your Monday Night Football Betting on Eagles vs. Saints Game.
The Saints are coming off of a loss in Denver to the Broncos, 34-14. This game was all Denver, as the Saints suffered a 29-14 deficit in first downs, a 305-201 deficit in passing yards, and a 225-51 deficit in rushing yards. The Broncos also held onto the ball for 11 more minutes than New Orleans. QB Drew Brees threw 22-of-42, for 213 yards, and 2 touchdowns. Brees has now thrown at least one touchdown pass in 50 straight games.
The underdog is 6-0-1 in Philly games this season, and 11-4 ATS in New Orleans games. The Eagles are 2-5 ATS on the season, and 1-0 ATS as a road underdog. They are 4-1 ATS when playing on Monday night, and 4-1 ATS when playing in New Orleans. The Saints are 3-4 ATS overall this year, and 1-2 ATS when favored at home. They are 13-3 ATS in the Superdome. Check the Monday Night Football Odds for Eagles vs. Saints Game.
These two teams have met five times since 2001, with the Saints holding a 3-2 series edge. Interestingly, the total has gone OVER in all 5 of these games. Their last meeting, in September 2009, resulted in a 48-22 Saints victory. In that one, the teams were even money. In a December 2007 matchup, the Eagles won 38-23, in a game in which the Saints were favored by 3 points. In a divisional playoff game in January 2007, the Saints won 27-24, after the Eagles were favored by 3.
For Monday night's game, SBG Sportsbook has installed the Saints as 3 point home favorites. The over/under is set at 47 ½ points.
Open An Account for the best Sportsbook Parlay and Vegas Teaser Payouts in the Industry.
Check the Game Podcast