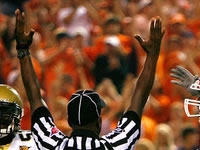 Week 6 Monday Night Football features the 2-3 Denver Broncos looking for their first win on the road, as they travel to San Diego to face the 3-2 Chargers. The game in Qualcomm Stadium is scheduled to kick off at 8:30 PM ET, and will be televised nationally on ESPN.
The Broncos come into this game off of a loss to the New England Patriots, 31-21. Denver has now dropped both of its road games this season. They suffered a 444-394 deficit in total yards, while the Pats held possession of the ball for 11 more minutes than the Broncos. Denver turned the ball over 3 times, all on lost fumbles. QB Peyton Manning threw 31-of-44, for 337 yards, and 3 touchdowns, while WR Demaryius Thomas ran for 180 yards on 9 catches. Manning is now at 11 touchdowns and 3 interceptions this year. Start your Monday Night Football Betting on Broncos vs. Chargers Game.
The Chargers are coming off of a loss to the Saints in the Superdome, 31-24. In that one, the Chargers held a 427-404 edge in total yards, including a 117-53 edge in rushing yards. Two Chargers turnovers, as well as 4 touchdown passes from Saints QB Drew Brees, kept the game just out of reach. San Diego led 24-14 in the third quarter, but gave up 17 straight points to the Saints. QB Philip Rivers threw 27-of-42, for 354 yards, and 2 touchdowns. Rivers is at 8 touchdowns and 5 interceptions on the season. On the positive side, the Chargers have tallied over 100 rushing yards in each of their last 4 games.
Denver is 2-3 ATS on the season so far, and 0-2 ATS as a road underdog. The Chargers are 3-2 ATS overall, and 1-1 ATS as a home favorite. Check the Monday Night Football Odds for Packers vs. Texans Game.
These two teams have met 22 times since 2001, with the Chargers holding a slight 12-10 edge in the series. Their last meeting, in November 2011, resulted in a 16-13 Broncos victory in overtime. In that one, the Chargers were 5 ½ point favorites. In an October 2011 matchup, the Chargers won 29-24, in a game in which San Diego was favored by 3 ½ points. In the last 8 meetings, the Chargers have covered the spread 5 times, with the Broncos covering 3 times.
For Monday's game, the oddsmakers from SBG Sportsbook have it listed as a pick'em. The line opened up at -3 for the Chargers, but if a Tim Tebow-led Broncos team could pull off an upset in San Diego in 2011, what can a Peyton Manning-led Broncos team accomplish? The over/under is set at 49 ½ points.
Open an Account for the best Sportsbook Parlay and Vegas Teaser Payouts in the Industry.
Check the Game Podcast