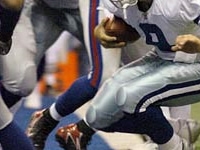 This past Sunday, the now 2-8 New York Jets (4th AFC East) surprisingly upset the now 6-4 Pittsburgh Steelers (2nd AFC North) by a score of 20-13. This was after the Steelers QB Ben Roethlisberger had just had two record setting games with 6 touchdowns in each of those games. Let's take a closer look at this stunning upset.
Such is life in the always exciting NFL this season, as the New York Jets were able to force four turnovers and put a stymie on QB Roethlisberger record setting statistics. For the first time in many week Jets Coach Ryan was able to smile after a game for the 1st time since back in week 1 when the beat the winless Oakland Raiders 19-14. In the game their QB Vick threw 2 TD passes and became the 1st QB in NFL history to rush for 6,000 yards as the Jets ended their 8 game loss streak.
As always the game statistics are always very interesting. as in this game the Steelers had 22 first downs with 62 total plays for 362 yards, with 326 passing yards, but only 36 rushing yards and with 4 turnovers which included 2 interceptions and 2 fumbles lost. The Jets has 15 first downs with 58 plays for 275 total yards, with 125 passing yards, and 150 rushing yards with no turnovers.
Offensively the leaders for the Steelers were QB Roethlisberger, who completed 30 of 43 passes for 343 yards with 1 TD and 2 interceptions and was sacked 2 times for loss of 17 yards. RB Bell & QB Roethlisberger combined for 12 carries for 36 yards, while Receivers Bryant & Brown combined for 12 receptions for 217 yards with Bryant scoring 1 TD.
Leading offensively for the Jets were QB Vick who completed 10 of 18 passes for 132 yards and 2 touchdowns while being sacked 4 times for a loss of 7 yards! RB Ivory & QB Vick combined for 22 carries for 90 yards, while Receivers Graham & Decker combined for 4 receptions for 91 yards with Graham scoring 1 TD.
Many fans and media personnel are now saying that the Jets should have started Vick from day 1, and that they made a mistake playing Smith to start the season. He may not have taken them to the Super Bowl, but he could have played well enough to get them at least an 8-8 record. In his game against the Jets, QB Vick threw for 2 touchdowns and made the big plays the Jets needed him to make to beat the Steelers. They took a 17-0 lead in the first quarter and the defense did most of the rest.
To say the least this was an interesting game, the Steelers lose one, and Vick and the Jets win one. Now we have to see what week 11 brings for those that bet on NFL at offshore betting sites as the Steelers now 6-4 play at the Tennessee Titans now 2-7 (3rd AFC South) on Monday the 17 of Nov. at 8:25 PM ET on ESPN. The Jets now 2-8 have a bye week, then in week 12 play at the Buffalo Bills on Sunday the 23rd of Nov. at 1PM ET.