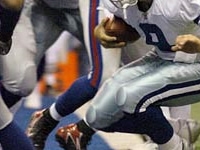 The Indianapolis Colts will be traveling to Sports Authority Field in Denver on Sunday, September 7 to take on the Denver Broncos in a primetime match. This match is expected to be a popular game among those who are interested in sports betting as it includes two teams that have a good recent history with one another.
The Broncos won three of their games in the preseason and were under the point total in each game. The last game came in a road victory against the Dallas Cowboys on August 28 when the team won 27-3 while being -2.5 favorites.
The Colts lost all four of their preseason games this year. They were 2-2 in terms of the over/under. Their last game was a 35-7 preseason loss to Cincinnati in spite of being listed at +2.5.
The two teams last met on October 20. The Colts were listed at +6 and won that game 39-33 while also surpassing the over/under listed at 54.5. The Colts have won the last six meetings against the Broncos while winning against the spread in each match dating back to the playoffs in 2005. The last victory for the Broncos in this series came in 2005 just one week before the playoff victory for the Colts that got this extended winning streak started.
The Colts have a 0-6 ATS record in their last six opening week games and were 4-3-1 ATS during road games in 2013. The Colts are also 5-1 under the point total in their last six September games.
The totals for the Broncos include a 4-0-1 ATS record in their last five September games. They were under the point spread on each of their last five games against AFC opponents and on natural grass fields.
The Denver Broncos are the clear favorites to win this match, according to SBG Global's betting odds. The Broncos are listed at -7.5 with a -350 moneyline payout. The Colts are listed with moneyline payouts of close to +300. The over/under for the number of points to be scored in the game has been listed at 55.5.