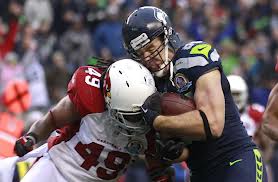 Super Bowl XLIX had a dramatic ending that led the Patriots to the win and their fourth Super Bowl title. The Seahawks failed in their goal of consecutive Super Bowl titles. As in many games in the NFL, at times the win or loss is a matter of inches, and Seattle was on the 1 yard line with 1st and goal with 20 seconds left in the game. The question now remains, should they have given the ball to RB Lynch, and would that have been a better call, than the pass attempt that was intercepted by Patriots rookie DB Butler?
A day after the game and maybe for years, the fans, media and critics will be asking, what was the Seahawks coaching staff thinking on that play. Many fans and skeptics think they made an error in the decision to pass, and not hand the ball off to the best NFL RB Lynch, as they had the opportunity by scoring, of regaining the lead, as well as winning the game.
After the game some of the Seahawks players thought the call was not that crazy, after all it was second down, had they given the ball to RB Lynch and the Patriots topped him, they would have had to use their last timeout, and then on the next play they would certainly need to pass. Certainly the coaches felt they had time for at least 2 more shots for a TD, so they decided on a quick strike, but it did not work that way, with the Patriots interception.
As one looks at the play situations as a coach, they maybe thought clock management offered some reasoning, as to how they approached this play at the Patriots 1 yard line. Looking a history in the 3 previous years, their happened only 4 times in those years in which a team, with 30 seconds or less had a play from the 1 yard line, and with a 4-8 point deficit in the game. In that case the team that had the deficit on 2 occasions they ran the ball, scoring once and being stopped once, and the other 2 times they passed for incomplete receptions.
Certainly, in this situation on Sunday, Feb. 1st Seattle Coach Carroll just could not imagine an interception when he Okayed the call for QB Wilson to pass. The statistics for 2014 for passes from the 1 yard line, it took place some 106 times passing, and there were no interceptions or fumbles.
If one takes a wider view of the play calling when on the 1 yard line, it seemed hard to accept calling for a pass play, but there was more logic in making that call. Their RB Lynch (Beast Mode) who gained yardage in much of this game looked difficult to stop, but had some 281 carries in the season of 2014. Of those 281 he had 20 carries where he lost yardage, and 2 fumbles, indicating that he had a bad outcome on 7.8 % of his carries for Seattle.
Seattle RB Lynch offensively has started behind QB Wilson for 3 years now, and he had 20 fumbles during that time, and some 77 negative yard rushes, that represents some 10.8 percent of all his carries. In 2014 RB Lynch on five occasions was given the ball on a handoff and only scored on 1 of those 5 times, which game him a 20% success rate at scoring on those occasions.
Now for the fans who bet on NFL at an offshore sportsbook, you now have some more statistical facts for you to evaluate the play calling decisions by Seattle Coach Carroll in Super Bowl XLIX!