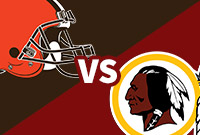 The Washington Redskins, newly reconciled with victory, will host the winless Cleveland Browns on Sunday, October 2nd at FedEx Field. The following are the
online NFL betting odds for the game
:
Browns +9½ (-115) 46 (-105)
Redskins -9½ (-105) 46 (-115)
The Redskins barely avoided starting 0-3 – and thus presumably missing the postseason –
at the expense of the New York Giants
, whom they handed their first loss under head coach Ben McAdoo. Washington QB Kirk Cousins finished 21 of 35 for 296 yards and two TD passes to wide receivers DeSean Jackson and 'J.J.' Jamison Crowder. The fourth quarter of this week 3 game featured the long-anticipated rematch between Redskins CB Josh Norman and Giants WR Odell Beckham, the aftermath of which included big plays by the latter, Giants center Weston Richburg being ejected, and a personal foul against Norman. At the end of the day, though, Washington kicker Dustin Hopkins made a 37-yard field goal late in the fourth and Su'a Cravens intercepted Eli Manning on the Giants final drive. The final score was 29-27.
And speaking of starting 0-3 – and the fact that just a triad of teams have reached the postseason after losing the first three regular season games since 1990 – you favorite online NFL betting underdogs the Browns lost 24-30 to the Miami Dolphins. The Browns started his third QB in as many weeks, rookie Cody Kessler, who threw 21 of 33 for 244 yards, and while he did not produce any TDs, his passes to Terrelle Pryor helped the latter become the first Brown player to have multiple receptions, rushes and passes in the same game since Star Wars originally came out. Cleveland had a chance to avoid the dreaded 0-3 start when OLB Corey Lemonier forced Ryan Tannehill to fumble and recovered the ovoid with 20 seconds left. However,
kicker Cody Parker missed his third field goal of the game
– known in soccer as the Martin Palermo syndrome – and so they went into overtime, at which point the Browns ran out of steam.
All things considered, though, that's about as close as the Browns have gotten so far, so it stands to reason that head coach Hue Jackson – who, contrary to the rumors, is not a poor man's Hugh Jackman – will start Kessler again (unless there's good news from the Josh McCown front, of course). Also, to the surprise of many football betting site users, Parkey will remain employed – for the time being, at least. Cleveland is averaging 18.0 points and 368.3 total yards (223.7 yards passing and 144.7 yards rushing) per game on offense, and allowing 28.0 points and 403.7 total yards (294.3 passing and 109.3 rushing) per game on defense. Meanwhile, the Redskins are averaging 22.7 points and 406.3 total yards (330.7 passing and 75.7 rushing) per game offensively, allowing 30.7 points and 424.7 total yards (301.7 passing and 123.0 rushing) per game defensively. The Browns have not won in Washington since 1991. As online NFL betting fans might recall, the last meeting between these two teams was Kirk Cousins's first career start, an occasion upon which he threw for the most yards by a rookie in the history of the Redskins.