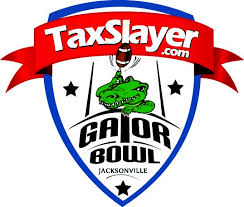 On the first day of 2014, Wednesday January 1st we will be viewing the TaxSlayer.com Gator Bowl that takes place at the EverBank Field (77,511) at Jacksonville, Florida with the Nebraska HUSKERS (8-4, 5-3 Big Ten) taking on the Georgia BULLDOGS (8-4, 5-3 SEC) with the kickoff at 12 pm ET on ESPN2 TV and presumably the weather will not be a factor.
One would be amazed at the number of Bet on College football fans will be celebrating the new year either attending or watching on TV this New Year's Day Bowl game and they will place their wagers at SBG Global or similar Offshore Betting facilities through the internet and the opening line for this game has the Bulldogs favored at -9 with the total at 60.  This game turned out to be a rematch of the Capital One Bowl last year when Georgia beat Nebraska 45-31 and Nebraska actually led in that game late in the third quarter.  This season will be somewhat different as both teams have lost their 1st string quarterbacks to injuries.
The Georgia Bulldogs upon RB Gurley's return from injury focused its running backs in the passing game, and upon his return and in the five remaining games for Georgia he scored 15 TD's and averaged some 151 yards of offense in each of those games.  With their starting QB out, Mason his backup had a fair game in his one start against Georgia Tech, but will have had a month to prepare for this game as the starting QB.  This is another reason Georgia has put a lot of the load on RB Gurley as he is a punishing runner and very versatile and explosive as an offensive weapon and he also has become a very good receiver.
In Nebraska with their starting QB also injured their RB Abdullah has kept the offensive moving with his 10 TD's and 1,800 yards rushing.  Thus, he will see a lot of carries in this game against Georgia.  The defense for the Huskers got off to a slow start by the end of their season they ended up nationally in 16th with 2.83 sacks per game and their sack rate of 10% ranked them seventh nationally.  This year's game between these two teams will certainly depend a lot on both teams running backs whom have played key roles this season in their team's success with the injuries each team had to contend with!  Both the Bulldogs and Huskers have our best wishes in this New Years Day Gator Bowl Game.