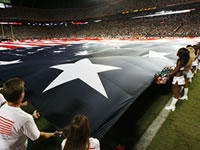 On Sunday afternoon, two teams with nearly perfect records in the NFL meet as the Baltimore Ravens travel to Houston to take on the Titans. The game in Reliant Stadium is scheduled to begin at 1:00 PM ET, and can be viewed regionally on CBS.
The Ravens come into this game after a close victory at home over the Dallas Cowboys, 31-29. Baltimore suffered a 30-19 deficit in first downs, a 481-316 deficit in total yards, and a 227-86 deficit in rushing yards. The Ravens did just enough to win the game and keep the score out of reach of the Cowboys.
Dallas also held onto the ball for 21 more minutes than Baltimore. QB Joe Flacco threw 17-of-26, for 234 yards, and 1 touchdown. WR Jacoby Jones set an NFL record by returning a 108-yard kickoff for a touchdown. Four of the Ravens' games this year have been settled by 1, 1, 3, and 2 points SU. Start your Football Bets on Browns vs. Colts Game.
The Texans are coming off of their first loss of the season, falling at home to the Green Bay Packers, 42-24. The Packers made it look easy, holding a 427-321 edge in total yards, including a 328-231 edge in passing yards. Houston lost the ball on 3 interceptions, while 3 sacks and 7 penalties cost them nearly 100 yards. Green Bay QB Aaron Rodgers threw for 6 touchdowns. Houston QB Matt Schaub threw 20-of-33, for 232 yards, and 0 touchdowns. The Texans have a 123-76 point edge in their last 4 games at home.
In Baltimore games, the underdog is 10-2 ATS recently. The Ravens are 2-4 ATS on the season, and 1-0 ATS as the away underdog. The Texans are 4-2 ATS overall, and 2-1 ATS as the home favorite. Check the Football Wagering Lines for Browns vs. Colts Game.
These two teams have met six times since 2001, with the Ravens winning every single one of those games. Their last matchup, in January 2012 in a divisional playoff game, resulted in a 20-13 Baltimore victory. In that one, the Ravens were 7 ½ point favorites. In an October 2011 meeting, the Ravens won 29-14, as 7 point favorites. Baltimore has won and covered in each of the last 6 meetings.
For this weekend's matchup, the Texans are listed by SBG Sportsbook's football odds as 6 ½ point favorites at home. The over/under is set at 48 ½ points.
Open an Account for the best Sportsbook Parlay and Vegas Teaser Payouts in the Industry.
Check the Game Podcast