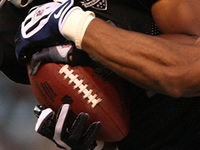 The Tennessee Titans depart the Music City and travel to the gulf coast to meet the Buccaneers in Tampa Bay Friday night. This is the second game of the preseason for both teams with kickoff in Raymond James Stadium scheduled for 7:30ET.
The Titans began their exhibition schedule with a trip to Seattle last week. That one ended in a 27-17 defeat for Tennessee. Backup RB, Darius Reynaud was the top performer on both offense and special teams for the Titans. He scored on a 21 yard rush and followed that up with an 85 yard punt return. Start your NFL Preseason Gambling action on the Tampa Bay Buccaneers at SBG Global.
QB Matt Hasselback didn't do much against his former team, going 5 of 9 for 45 yards with two picks. Jake Locker was better in a relief role, but not spectacular. He has been named the starter against the Bucs on Friday after going 7-13 for 80 yards versus the Seahawks.
Defensively, the Titans got a pair of interceptions by their linebackers and two sacks by defensive ends. Receiver Kenny Britt remains out of this one and is in jeopardy of missing the regular season opener. Tennessee first round selection, Kendall Wright had a nice pro debut with 3 catches for 47 yards. With the exception of Britt, there are no other significant injuries to report for the Titans.
Tampa bay started 2012 on a good note, defeating intrastate rival Miami 20-7 last week in South Beach. RB's Doug Martin and LeGarrette Blount each had a touchdown and kicker Kai Forbath booted two through the uprights to round out the scoring. Check the Football Preseason Lines for the 2012 NFL Season.
The last time these two teams met during last years regular season, it was a battle of the turnovers in a rainy LP Stadium in Nashville. The teams combined for 9 turnovers, 5 of them by the Buccaneers in the 23-17 Titans victory. Tennessee leads the regular season series with 8 wins in 10 contests.
Tampa Bay is a 2.5 point home favorite if you're willing to lay $110 to win $100. Another $110 will be required to play the under/over of 37.5.
Open an Account for the best Sportsbook Parlay and Vegas Teaser Payouts in the Industry.
Check the Game Podcast: