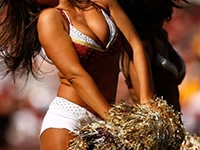 The Chicago Bears depart from the shore of Lake Michigan and fly to another Great Lakes port, landing near Lake Erie to meet the Cleveland Browns on Thursday night in the final 2012 preseason game for both teams. Exhibition game 4 is scheduled to get started in Cleveland Browns Stadium at 7:30ET.
Chicago (2-1) appeared out of sync on offense even though they eventually beat the reigning Superbowl champ Giants 20-17 last Friday. New York led 17-7 at the half before the regulars gave way to the backups. Bears backup QB Jason Campbell did well in relief of Jay Cutler and expect him and Josh McCown to take all of the snaps against Cleveland. LB Brian Urlacher hopes to be ready for the regular season but will miss this one with a sore knee. Check the NFL Preseason Lines for Bears vs. Browns Game.
Cleveland (2-1) did not get off to a good start against the Eagles last week fumbling 3 times, suffering 2 INT's and being penalized several times in the 1st quarter alone. They eventually succumbed to Philadelphia 27-10. Colt McCoy and Seneca Wallace will battle for the backup QB job on Thur. RB Trent Richardson, the 3rd overall selection in this years draft, hopes to play in the Browns regular season opener but is out for this one.
These two teams have met three times in the regular season since 2001. The Bears lead the series 2-1. Their last meeting, in November 2009, resulted in a 30-6 Bears victory in Soldier Field in Chicago.
The Bears are 2-1 SU on the preseason, and 1-0 SU outside of Chicago. They are 2-1 ATS overall, and 1-0 ATS on the road. The Browns are also 2-1 SU on the year, but 0-1 SU in Cleveland. They have gone 2-1 ATS overall, and are 0-1 ATS at home. Start your Football Preseason Betting on Bears vs. Browns Game.
Cleveland is favored by 3.5 points if you're willing to lay $110 to win $100. The Browns are 0-1 ATS when favored and 0-1 ATS as a home favorite. The Bears are 1-0 ATS in the preseason as the underdog, and 1-0 ATS as the road dog. Another wager of $110 will be required to play the under/over of 37.
Open an Account for the best Sportsbook Parlay and Vegas Teaser Payouts in the Industry.
Check the Game Podcast: