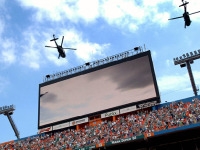 The Seattle Seahawks depart the great northwest to pay a visit to the Mile High City for a 2012 NFL preseason contest with the Denver Broncos Saturday night. It's a 9:00ET start in Sports Authority Field at Mile High.
Even if the city's elevation was not 5,280 feet, the Broncos fans would still be sky high for this one. Guess who's coming to play quarterback? Peyton Manning makes his home field debut for Denver in this one. Expect to see Manning play most of the first half after playing just one possession against Chicago last week with that one ending in a red zone interception by the Bears. Start your Football Gambling action on the San Francisco 49ers at SBG Global.
Everything else went right after that however, in the Broncos 31-3 rout.
On the other side of the ball for Denver, things got a bit serious on the injury front. DE Jason Hunter's season may have ended with a triceps tear. He will be one of several defensive players unavailable on Saturday.
Seattle will feature a wily veteran of their own against Denver when none other than WR Terrell Owens will be active for this one. He may take the place of Sydney Rice, who will miss this contest.
Seattle head coach Pete Caroll proclaimed Matt Flynn to once again be the starting quarterback this week after a solid performance against Tennessee last week in the Seahawks 27-17 triumph. It looks like third round draft choice QB Russell Wilson will play the second half while Tavaris Jackson continues to wait for a chance to play.
RB Marshawn Lynch may see some playing time after not playing a week ago. TE Zach Miller and G John Moffitt remain out for the Seahawks. Check the Football Odds for the Seahawks vs. Broncos game.
These two teams competed in Denver during last years preseason with the Broncos emerging victorious 23-20. The Broncos are 8-1 all time in exhibition play versus the Seahawks.
The game is considered a "Pick Em" on a wager of $110 to win $100. The over/under of 37.5 total points is also at a -$110.

Open an Account for the best Sportsbook Parlay and Vegas Teaser Payouts in the Industry.
Check the Game Podcast: