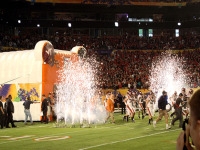 The NFL regular season is winding down with only two weeks left to play. One of the highlight games of week 15 is the Baltimore Ravens traveling to San Diego to play the Chargers.

Setup - At one time, this would have been considered the premium game of week 15, but no longer. The San Diego Chargers started strong, but have fallen apart to the point they have seven losses and no realistic playoff possibilities. The Ravens, in contrast, are considered by many people to be the best team in the AFC. This game will boil down to the defensive line of the Ravens versus the offensive line of the Chargers and that is not a good thing for San Diego. Check the NFL Odds for Baltimore Ravens vs. San Diego Chargers game.

Key Battle - The San Diego Chargers have an excellent pass blocking offensive line…just not for this game. The Chargers are missing the entire left side of their line and their right guard, Louis Vasquez, is playing on a tender ankle. Behind them sits the excellent, but highly immobile, Philip Rivers or as he is being called on San Diego sport talk radio – the sitting duck. This sitting duck reference takes into account the fact the Ravens have a stud pass rush led by Terrell Suggs who already has 13 sacks for the season. He and his fellow defensive lineman are going to run through the Chargers offensive line like locusts through a corn field.

Key Battle, Part II
Then we have the Ravens offense against the Chargers defense. This should be a bit of a draw. The Ravens will make plays against the Chargers defense, but the opposite is true as well. Still, one can expect the Ravens offense to put up two or three touchdowns on its own and be gifted incredible field position on a few other occasions as the defense forces Rivers into at least two turnovers. Start your NFL Betting action on Baltimore Ravens vs. San Diego Chargers game.

Outcome -The Ravens are favored by 2.5 point in this one as the road team. The Chargers are getting better as they get their skill position players back from injury. The problem is those players don't include their offensive linemen. Look for Philip Rivers to be flipped more than an omelet on a Sunday morning in this game. The Chargers have to win with offense. That will be hard to do with Rivers flat on his back and staring at the sky.

Open an account for the best Sportsbook Parlay and Vegas Teaser Payouts in the Industry