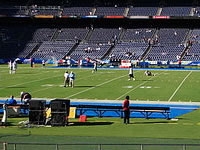 Last week the Giants defeated the division leading Cowboys in what was a do or die game for them. Not only did they win the game, but they did it in dramatic fashion with two touchdowns in the last three minutes of the game. That win propelled them into a tie with the Cowboys; both teams are now 7-6 on the season. There are several possibilities in the last three weeks of the season, but the most oblivious way to the playoffs for the Giants is to beat the Redskins this Sunday and then defeat the Cowboys on the last game of the season. If this happens the game with the Jets in week 16 will not matter.
The Redskins have had a disappointing season as most people would have been surprised as a 4-9 record going into week 15. At this point management is looking at next year, with individual players trying to polish their statistics in a drive for good contracts. Their team has very little motivation other than pride. Start your Football Betting action on Washington Redskins vs. New York Giants game.
The Giants have been riddled with injures this year, but the team that beat the Cowboys last week will be the same one taking the field against the Redskins. In front of a home crowd of fans that experienced four straight losses before last week's fourth quarter miracle, Giant fans will be loud and inspiring. The Giants may be sitting on one of their best games of the season and the Redskins will have to be careful they are not blown out early. Check the Football Odds for Washington Redskins vs. New York Giants game.
The opening line was Giants -7 with the odds currently -6.5 at the online sportsbook. If the Redskins were to win this game, it would be a big upset. It is only a matter of how many points the Giants will win by. The line is saying it will be a touchdown, but this writer sees the Giants winning easily and covering the seven point spread.
Open an account for the best Sportsbook Parlay and Vegas Teaser Payouts in the Industry.