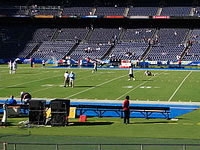 On Sunday afternoon, the Washington Redskins make the trip south from the nation's capital to Tampa Bay, to face the Buccaneers. The game in Raymond James Stadium in Tampa, FL, is scheduled to kick off at 4:25 PM ET, and will be televised regionally by FOX.
The Redskins come into this game after losing their home opener to the Cincinnati Bengals, 38-31. In that one, the Bengals held the 478-381 edge in offensive yards, including a 385-168 edge in passing yards. Most of the other stats, however, went the Redskins' way, as they held edges in first downs, rushing yards, and time of possession. QB Robert Griffin III threw 21-of-34, for 221 yards, and 1 touchdown, but it was not enough when compared to Bengals QB Andy Dalton's 3 touchdowns on 328 yards. Griffin is completing 67% of his passes so far this year, although Washington has dropped two straight since upsetting the Saints in Week 1. Start your Football Betting on Redskins vs. Buccaneers Game.
The Buccaneers come into this game off of a loss on the road to the Dallas Cowboys, 16-10. The Cowboys held a 297-166 edge in offensive yards, including a 259-91 edge in passing yards. Dallas only gave the Bucs one sustained touchdown drive the entire game. It was an ugly affair for both teams, with the Bucs failing to score in the 2nd and 3rd quarters, and Dallas doing little better. QB Josh Freeman threw 10-of-28, for 110 yards, and the team's only touchdown. In their last 4 home games, the Bucs have been outscored 116-59.
The dog has covered all three of the Skins' games this season. They are 6-0 SU in Game 4, and 1-2 ATS on the season. They are 1-0 ATS as the road underdog after the defeat of the Saints in the Superdome. The Bucs are 4-11-1 ATS recently, but 3-0 ATS so far this year. They are 1-0 ATS in Tampa.
These two teams have met eight times since 2001, with the Bucs leading the series 5-3. Their last meeting took place in December 2010, with Tampa Bay escaping with a 17-16 victory. In that one, the Bucs were 1 point favorites. In an October 2009 meeting, the Redskins won 16-13, when Washington was favored by 7 ½ points.
For this Sunday's game, the Buccaneers are once again 1 point favorites, according to the SBG Global football betting odds. The line opened with Tampa Bay at -3. The over/under is set at 47 ½ points.
Open an Account for the best Sportsbook Parlay and Vegas Teaser Payouts in the Industry.
Check the Game Podcast: