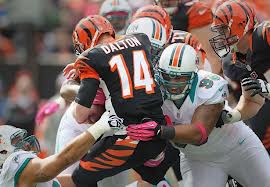 This Thursday football fanatics who Bet on NFL will be pleased to view the game between the Miami DOLPHINS (3-4, 3rd AFC East) visiting the Cincinnati BENGALS (5-2, 1st AFC North) at Paul Brown Stadium in Cincinnati, Ohio with kickoff scheduled for 8.25PM.

The visiting Dolphins continue having problems with offensive turnovers as their QB Tannehill was intercepted on two occasions and also had his fifth fumble of the 2013 season and worst of all the turnovers all took place in the second half of the game after they went to half time with a 17-3 lead. In total Tannehill threw 42 passes and completed 22 for some 192 yards and 2 TD's. Unfortunately for Miami this is a short week from Sunday's game then playing Thursday night at the Bengals. The Dolphins continue to have problems with injuries both with offense linemen and defense backs and they had five defensive players who prior to the Patriots game were inactive. A little luck was with the Dolphins as WR Brandon Gibson came off the injured list and played making at least one catch and scoring a touchdown. Leading offensive ground gainer for the game was RB Miller who carried 18 times for 89 yards with an average gain on each carry of 4.9 yards.

The Sportsbook and football fans saw the way the Bengals crushed the Jets this past Sunday so the Dolphins need to be prepared for a real offensive/defensive battle. Cincinnati is hoping the their middle linebacker Maualuga's injury against the Jets will not prevent him being active in the Dolphins game on Thursday as he hasn't missed a game since back in 2011 and is a major factor for the defense. If necessary they will move outside LB Burfict to the middle LB position. They are also concerned for the left tackle who left the game with a knee injury against the Jets. Against the Jets QB Dalton in the first half had 4 TD passes which tied a Bengals team record.

After the loss to the Browns back in Week FOUR the Bengals have been very impressive beating New England, Buffalo, Detroit and the Jets. Their plan is to continue with a dominant defense, a methodical offense and winning the AFC North Division. Their roster is full of talent with offensive and defensive players with QB Dalton performing the best of his NFL career throwing for over 2100 yards with 16 touchdowns and only 7 interceptions for the season. For those who participate at a Online sportsbook good luck on however you choose be it Bengals or Dolphins!