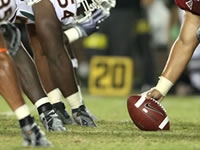 Football Betting: Giants vs. Bengals Handicapping Tips. On Sunday afternoon, the 6-3 New York Giants, fresh off a revenge win over the Cowboys and a loss to the Steelers, travel to Cincinnati to take on the Bengals. Gametime in Paul Brown Stadium is scheduled to begin at 1:00 PM ET, with regional coverage to be provided by FOX.
The Giants come into this game off of a close loss at home to the Pittsburgh Steelers, 24-20. It was a surprise they were in it at all, considering they suffered a 22-13 deficit in first downs, a 349-182 deficit in offensive yards, and a 191-114 deficit in passing yards. However, the Giants did force 2 Steelers turnovers, while sacking them 4 times. Six penalties also cost Pittsburgh 119 yards, while it took two touchdown drives from the Steelers in the fourth quarter to give them the lead. QB Eli Manning threw 10-of-24, for 125 yards. On the positive side, over the past two weeks, the Giants hold combined edges in first downs at 50-24, and total yards at 738-475. They also hold a 19-turnover edge over the Bengals this season.  Check the Football betting Lines for Giants vs. Bengals Game.
The Bengals became the latest victim to Peyton Manning and the Denver Broncos, losing at home, 31 -23. Cincinnati narrowly won the stats game, holding edges in first downs at 22-20, offensive yards at 366-359, and rushing yards at 91-68. However, 5 sacks and 8 penalties cost them over 110 yards, and they threw an interception. QB Andy Dalton threw 26-of-42, for 299 yards, and 1 touchdown. Dalton is at 14 touchdowns at 11 interceptions on the year.
The Giants are 7-0-1 ATS on the road, and 7-1 ATS in November games off of being upset. They are 4-5 ATS overall this year, and 1-0 ATS as the road favorite. Cincinnati is 1-6 ATS after allowing 30 or more points. They are 2-5 ATS on the season, and 0-2 ATS as a home underdog.
These two teams have met just twice since 2001, with the series tied at a game apiece. Their last meeting, in September 2008, resulted in a 26-23 Giants victory in overtime. In that one, the Giants were 13 ½ point favorites. In a December 2004 matchup, the Bengals won 23-22, in a game in which they were favored by 5 ½ points. Start your NFL Wagering on Bears vs. Titans Game.
For this weekend's game, according to the sbgglobal.eu sportsbook, the Giants are 4 point road favorites. The over/under is set at 48 ½ points.
Open an Account for the best Sportsbook Parlay and Vegas Teaser Payouts in the Industry.
Check the Game Podcast