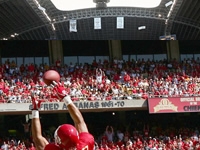 The Giants from New York march into north Florida on Friday for a matchup against the Jacksonville Jaguars in game one of the 2012 NFL preseason. The first kick is scheduled to be booted at 7:30ET in EverBank Field.
The Giants of course, are the reigning Superbowl champs off their regular season record of 9-7, finishing first in the NFC East and with an incredible playoff run. Missing from last years championship team are RB Brandon Jacobs, WR Mario Manningham, TE Jake Ballard and CB Aaron Ross. Ross will be in the opponents lineup on Friday, after agreeing to a three year deal with the Jags during the offseason.
Wideout Hakeem Nicks will also be out of this one along with several other Giants nursing injuries. Eli Manning is still here, although look for backup David Carr to make most of the throws for New York.
Giants fans will be watching potential replacements for Manningham and Jacobs in Rueben Randall and David Wilson, their first two picks in the draft. Randall will be in a battle for the third receiver spot and Wilson hopes to get alot of playing time along with number one running back Ahmad Bradshaw. Start your NFL Preseason Betting action on the New York Giants at SBG Global.
The Jaguars were 5-11 last year, good for third place in the AFC South. Head Coach, Mike Mularkey already has a couple of issues to deal with prior to the first preseason contest on Friday.
RB Maurice Jones-Drew is holding out for a new contract after leading the league in rushing last season. No end to the dispute appears likely soon.
Along with that, highly touted overall fifth draft pick, receiver Justin Blackmon just agreed to a deal on Monday, but will require time to get up to speed and obviously will not play against the Giants. Check the NFL Preseason Odds for the 2012 NFL Season.
Look for QB Blaine Gabbert to hand the ball off to Rashard Jennings in Drew-Jone absence before he is replaced by backup Chad Henne, the former Dolphin who signed with the Jags this offseason.
.
Jacksonville has been installed as a 2.5 point favorite on a $110/$100 moneyline. The same moneyline applies to the over/under of 35 points.
Open an Account for the best Sportsbook Parlay and Vegas Teaser Payouts in the Industry.
Check the Game Podcast: