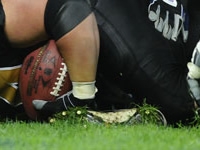 The game of the week and perhaps regular season happens in New York in the final week of the NFL season. The Dallas Cowboys visit the New York Giants in the ultimate winner takes all game. It doesn't get any simpler than this in the rule heavy NFL. The winner of this game is the NFC East Division Champion, makes the playoffs and gets to play the first playoff game at home. The loser? They get nothing, not even a wild card position in the playoffs.
The Giants come into this game on a huge high after winning the bragging rights for New York by defeating the Jets in week 16. The win may, however, been a bit misleading. The Jets fell apart like three week old bread in that game. The Giants defense played well, but their offense again showed a season long tendency of being unable to run the ball. It did right the ship at the end of the game in this regard, but the Giants have an offense that can be great or terrible from game to game.Check the NFL Lines for Dallas Cowboys at New York Giants game.
The Cowboys come into this game as a bit of a mystery. They lost their last game in Philadelphia, but the outcome meant nothing so the Cowboys ended up resting a lot of their key players after the first quarter. The big question is a throwing hand injury that quarterback Tony Romo suffered when hitting a helmet on the follow through of a throw. All indications are the injury is minor and will not affect Romo in the game. Start your Football betting action on Dallas Cowboys at New York Giants game.
The Giants come in as 3 point favorites. Given that oddsmakers give 3 points to the home team, this means they essentially believe the game to be a toss up. It is hard to argue such a conclusion. While playing for the division championship, there is little doubt that both these teams are flawed.
Open an account for the best Sportsbook Parlay and Vegas Teaser Payouts in the Industry.