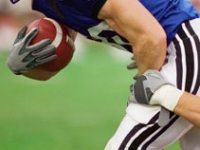 The Indianpolis Colts will trot into our nations capital on Saturday afternoon to meet the Washington Redskins in week 3 of the 2012 NFL preseason schedule. The game at FedEx Field in Landover, Maryland will kickoff at 4:00ET and can be seen live in most parts of the U.S. on the NFL Network.
Indianapolis (1-1) and overall number one draft pick Andrew Luck performed well last week despite a 26-24 loss to the Steelers. Aside from a pick he threw resulting in a Pittsburgh TD, Luck was 16-25 for 175 yards in the air and ran one in from the 1 yard line. WR's Austin Collie and Donnie Avery are both questionable for the Colts. Avery may make an appearance against the Redskins, but Collie is less likely to play after suffering a concussion. Start your Football Betting action on Colts vs. Redskins Game.
Washington (1-1) didn't look as good in a 33-31 loss to Chicago last week. They trailed 30-10 entering the fourth quarter before leaving it to the scrubs to score 21 points during mop up time. The Redskins have concerns in this Saturday matinee with two RB's Tim Hightower and Roy Helu both being listed as questionable. Hightower is recovering from an ACL injury, while Helu has an injured Achilles' tendon. Both practiced on Wednesday, but may not see any action against the Colts.
The Colts have won their last two regular season meetings vs. the Skins. The last time they met, in October 2010 in Washington, the Colts escaped with a 27-24 victory. Indianapolis leads the regular season series 2-1 since 2001. Check the Football Odds for the Colts vs. Redskins Game.
The Colts are 1-1 SU, and 0-1 SU on the road. They are 2-0 ATS, and 1-0 ATS away from Indianapolis. The Redskins are 1-1 SU, and this will be their first home game of the year. They are 0-2 ATS.
Washington is a 3.5 point home favorite listed at a -$110. This is the first time this preseason that the Redskins have been listed as the home favorite. The Colts are 1-0 ATS as the away underdog. The under/over is 43.5 total points also listed at -$110.

Open an Account for the best Sportsbook Parlay and Vegas Teaser Payouts in the Industry.
Check the Game Podcast: