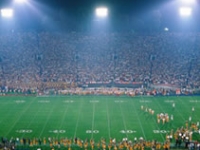 On Sunday afternoon, the Cincinnati Bengals travel to the nation's capital to take on RG3 and the rest of the Washington Redskins. The game is scheduled to begin at 1:00 PM ET in FedEx Field in Landover, MD. You can watch all of the action regionally on CBS.
The Bengals are coming into this game after winning their home opener over the Cleveland Browns, 34-27. Despite suffering a 439-375 deficit in rushing yards, Cincinnati's QB Andy Dalton led the way with 3 touchdowns. He threw an efficient game, going 24-of-31, for 318 yards. WR Brandon Tate also had a good game, running for 71 yards on 3 catches, and scoring a TD. The Rams have allowed 430 and 439 yards in their first two games of the season. Start your Football Betting on Bengals vs. Redskins Game.
The Redskins are coming off of a loss to the St. Louis Rams in their road opener, 31-28. QB Robert Griffin III threw 20-of-29 for 206 yards and a touchdown, but it was not enough, as the Skins suffered a 452-373 deficit in offensive yards. The defense was the main problem, however, as Washington allowed the Rams back into the game in the fourth quarter, giving up 8 points and the lead. In their last four regular season games, the Skins have given up 32, 31, 33, and 34 points.
The favorite is 9-4-1 ATS in Bengals games. Cincinnati is currently on a 2-7-2 run ATS, and are -76 ½ points in that stretch. They Bengals are 0-1 ATS this season, 0-1 ATS on the road, and 0-1 ATS as the road underdog. The Redskins are 10-1 ATS in September games against opponents with a winning record. They are 1-1 ATS so far this year, and 0-1 ATS as the favorite. Check the Football Lines for Bengals vs. Redskins Game.
These two teams have only met twice since 2001, with the Bengals leading the series 2-0. Their last meeting, in December 2008, resulted in a 20-13 Cincy win, when the Skins were 7 point favorites. In a November 2004 meeting in Washington, the Bengals won 17-10 when the Skins were favored by 4 points.
For Sunday's game, Washington is a 3 ½ point home favorite, according to the sbgglobal.eu football oddsmakers. The line opened at -4 for the Redskins. The over/under is set at 49 ½ points.
Open an Account for the best Sportsbook Parlay and Vegas Teaser Payouts in the Industry.
Check the Game Podcast: