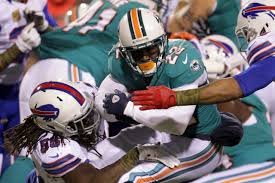 This Sunday, the 21st of December, both of the teams we are previewing, the 6-8 Minnesota Vikings (3rd AFC North) and the 7-7 Miami Dolphins (3rd AFC East) are playing their penultimate regular season games of the 2014 NFL season. The game will be played at the Dolphins' Sun Life Stadium in Miami, Florida at 1 PM ET and can be seen on Fox TV. The Dolphins are favored at -6 (-105) with the O/U 42 and ML -240, with the Vikings +6 (-115) and ML +200.
This season the Vikings are averaging scoring 19.8 points per game, while allowing their opponents to score some 21.2 points at home, and they are 4-3 at home, and 2-5 in their road games. The Dolphins have averaged scoring 23.4 points per game, while allowing opponents some 21.5 points per game, and they are 3-3 at home and 4-4 on their road games.
In the passing game for the Vikings their QB Bridgewater thus far in the season has completed 223 of his 351 passes for 2,451 yards, with 11 touchdowns and 10 interceptions. The Dolphins QB Tannehill has completed 334 of his 504 passes for 3,390 yards, with 22 touchdowns and 11 interceptions.
The RBs for the Vikings McKinnon & Asiata have combined for 242 carries for 959 yards with Asiata scoring 7 touchdowns. The Dolphins RB Miller & QB Tannehill have combined for 228 carries for 1,145 yards, with Miller scoring 6 rushing touchdowns and QB Tannehill scoring 1 rushing TD. The receivers for the Vikings Jennings & Wright have combined for 89 receptions for 1,168 yards with Jennings scoring 5 touchdowns and Wright scoring 1 TD. The receivers for the Dolphins Wallace& Landry have combined for 133 receptions for 1,476 yards with Wallace scoring 8 touchdowns and Landry scoring 5 touchdowns.
Statistically game wise Minnesota is averaging 313 yards on offense per game, with 201 passing and 112 rushing, while the Dolphins are averaging some 337 total yards on offense, with 224 passing and 113 rushing. On the defensive side the Vikings are allowing opponents 340 yards per game, with 216 yards passing and 124 yards rushing, while the Dolphins defensively have allowed their opponents some 332 yards per game, with 209 passing and 122 rushing.
With only two games left in the season the Dolphins are looking for a win in both games to save their season and possibly their Coach Philbin's position with the Dolphins. So fans if you bet on NFL at SBG Global, after this game there's only one more, for the 6-8 Vikings who play at home against the struggling 5-9 Chicago Bears (4th NFC North) at 1 PM ET, Sunday the 28th of Dec. 2014 and on Fox TV. For the now 7-7 Dolphins (3rd AFC East) play at home against the now 3-11 New York Jets (4th AFC East) also at 1 PM ET on the 28th of Dec. 2014 and on CBS TV.