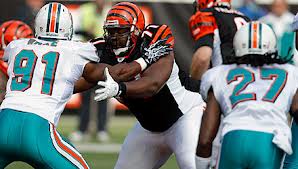 This past Saturday night, the NFL Preseason game between the Dallas Cowboys and the Miami Dolphins was played at Sun Life stadium in Miami Gardens, Florida. The Dolphins defeated the Cowboys 25 -20 and the Cowboys are winless in preseason to date. Dallas, however, did cover the spread as 5 1/2 point road dogs, with the total being a Push at 45 points.
Cowboys QB Tony Romo played the first half and was sacked on three occasions, while Miami QB Ryan Tannehill's final play was an interception that was a forced play.
But at least the Dolphins ended the game with the win: with 1:45 left in the game, Dolphins RB Darkwa ran for a 1 yard score, bringing the final score to Miami 25, Dallas 20.
Amazingly, there were five TDs in the game and most came after the majority of both teams' starters had been replaced for the remainder of the game. The Miami coach Philbin was pleased how his players performed in the fourth quarter and said it was a hard earned victory.
First string QB Tannehill, who left in the 3rd quarter, was 13 for 21 and some 119 yards. But Tannehill threw an interception inside the Dolphin 10 yard line which was his 1st in 41 passes thrown this preseason. His throwing accuracy has Miami believing this may be their break season and they have brought in Dan Marino as a special adviser for QB's and the offense for that purpose.
Dallas QB Romo threw for 87 yards on 10 of 18 passes and got sacked twice by the Dolphins defense. His surgically repaired back certainly got tested in this game. Dallas coach Garrett was happy to a least have Romo back in the playing form adding his physical part to the game.
Romo stated that the Cowboys have some things they need to correct and they want to put more points on the board, but in this game they hurt themselves with penalties. Thus, it's hard to win when the team keeps setting themselves back.
The Dolphins also had a TD early in the 4th quarter when Hoskins caught a TD pass of 27 yards and a TD on a 1 yard run by Williams in that same quarter.
Some scoring for the Cowboys consisted of an interception by Patmon for a score and Byrd caught a TD pass of 27 yards and kicker Bailey hit two field goals, one of 50 yards and the other of 52 yards.
One thing the Dolphins offensive coaches were very pleased with was the debut of offseason acquisition of RB Moreno who on one play made a 19 yard gain and ended the game with 64 yards on some 10 carries of the ball.