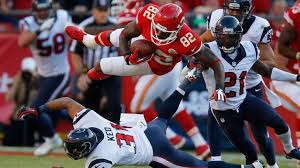 The Denver Broncos have taken in a big advantage with their match against the Kansas City Chiefs this weekend. The Chiefs will be heading to the high-altitude environment of Sports Authority Field in Denver for this AFC West match-up.
The Broncos have won seven of their last ten games against the Chiefs. The Broncos beat the Chiefs both straight up and against the spread in their games last year. The last one was on December 1 when the Broncos won 35-28 with a -5 spread. The under has gone 5-1-1 in the last few games between these two teams.
The Broncos have won eight of their last ten games. They have gone 6-4 ATS in those games. The last game was a 31-24 win over the Indianapolis Colts. The Broncos were favored with a -8 line but still got past the over/under of 53.
The Broncos have gone 4-0 ATS in their last four games after losing against the spread. They have also gotten the over on their last five September games. Wide receiver Wes Welker is also suspended for the game for violating the league's drug policy. However, he is eligible to possibly be reinstated for this game by the league.
The Chiefs have lost seven of their last eight straight up games. This includes their preseason and playoff games from this calendar year. They are also 1-6-1 ATS in those games. The last one was a 26-10 loss to the Tennessee Titans this past week. The Chiefs had a -3 line and also went under the 45.5 over/under for the game. The Chiefs have gotten past the over in their last four road games and in their last four AFC West games.
The Denver Broncos are very strong favorites to win this game, according to SBG sportsbook. The Broncos are -11.5 favorites to win this week's game. The over/under is also listed at 51 points for the game in general. The moneyline bet is not available in all places but the Chiefs are listed at +550 at places where it is being offered.