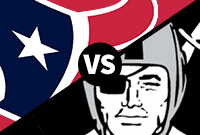 The Houston Texans and the Oakland Raiders hope to make into and out of Mexico before the wall is up in order to show the south of the border NFL betting public that real football is played with your hands. Here are the
NFL gambling lines
for the game on Monday, November 21st at Estadio Azteca:
Texans +5½ (-110) 46½ (-110)
Raiders -5½ (-110) 46½ (-110)
The Texans (6-3) finally won a road game this season, a 24-21 win over the Jaguars on Sunday. QB Brock Osweiler threw 14 of 27 for 99 yards with two TDs. DeAndre Hopkins had 48 yards on five receptions; while Stephen Anderson and Ryan Griffin both scored receiving TDs. Lamar Miller ran for 83 yards on 15 carries. Nick Novak made 1 of 3 field goals. Johnathan Joseph had seven tackles. John Simon had one sack.
Kareem Jackson intercepted one pass
. The Texans have won two games in a row.
The Raiders (7-2) defeated the Denver Broncos 30-20 prior to going on bye. QB Derek Carr finished 20 of 31 for 184 yards. Latavius Murray ran for 114 yards and three TDs on 20 carries. Amari Cooper had 56 yards on six catches. Sebastian Janikowski converted 3 of 4 field goals. Malcolm Smith had eight tackles. Khalil Mack had one sack. Reggie Nelson intercepted one pass. The Raiders have won three games in a row.
Houston ranks 5th in rushing yards
(121.4), 29th in points (17.9), 30th in total yards (308.8), and last in the league in passing yards (187.3) per game, and 3rd in passing yards (196.8), 4th in total yards (317.4), 12th in points (20.9), and 26th in rushing yards (120.7) allowed per game. Osweiler is 190 of 324 (58.6%) for 1818 yards with 11 TDs and nine interceptions. Hopkins has 482 yards and three TDs on 45 receptions. Miller has run for 720 yards and two TDs on 168 carries. Benardrick McKinney 80 combined tackles. Whitney Mercilus has 4½ sacks. And for the NFL betting public: the Texans are 9-4 straight-up in their last 13 games, 6-3 against the spread and straight-up in their last nine games versus the Raiders.
Oakland ranks 4th in rushing yards, 5th in points (27.2) and total yards (401.1), and 7th in passing yards (273.3) per game, and 21st in points (24.8) and rushing yards (114.8), 28th in total yards (398.0), and 30th in passing yards (283.2) allowed per game. Carr is 234 of 354 (66.1%) for 2505 yards with 17 TDs and three picks. Cooper has 843 yards on 58 receptions, and Michael Crabtree has six TDs on 49 catches. Murray has run for 393 yards and eight TDs on 89 carries. Smith has 49 combined tackles. Mack has seven sacks. Nelson has intercepted three passes. There is an NFL betting public for this: the Raiders are 5-2 against the spread and 6-1 straight-up in their last seven games, and 3-6 against the spread and straight-up in their last nine games versus the Houston Texans.