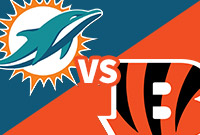 Many gambling fans that were looking to bet on NFL futures were warned to stay away from the AFC North because many critics considered the North to be the toughest division in the league. Now three weeks into the season the AFC North is proving to be quite unpredictable. As things stand now the Baltimore Ravens sit atop the division with an unblemished 3-0 record. Close behind them are the
Pittsburgh Steelers
with a 2-1 record, and behind Pittsburgh is Cincinnati at 1-2 followed by Cleveland at 0-3.
While seeing the Browns start out the season without a win is hardly a surprise, but few people expected Cincinnati to be at 1-2. One year removed from a 12-4 season that saw them take the AFC North, the Bengals are having a hard time competing against the best teams in the AFC. Cincinnati beat the Jets in their opener, but followed that win with a divisional loss against the Steelers and a poor showing against the Super Bowl reigning Champion Broncos. While losing against those teams doesn't mean the Bengals are terrible, it's still important to be able to be competitive with the best teams in the American Conference, regardless if it's early in the season. The Bengals will get a chance to recover in Week 4 when they face the 1-2 Dolphins. What kind of odds are the top sportsbooks giving the reigning AFC North champions this Thursday?
Week 4 – Thursday the 29th of September
Dolphins +7 (-115) 44(-110)
Bengals -7 (-105) 44(-110)
The Bengals are coming in as the favorites and will be looking to cover a 7 point spread. Cincinnati's offense is currently averaging a mere 18.7 points per game so far this season. The Dolphins aren't doing much better and are netting 21.3 points per outing. If you're inclined to
bet on NFL
totals, this one seems like it may be less than 44 points. As things stand now, both the Bengals and the Dolphins have similar offenses; a decent passing attack but a poor effort on the ground. The Bengals are averaging 293 yards through the air each game, 7th best in the league. Miami is close behind them with their average of 282.7 passing yards, 10th best in the NFL. But on the ground the Bengals have struggled to gain 82 yards per game (27th in the league) while the Dolphins are barely getting 83 yards (25th in the NFL). With their offenses practically being mirror images of each other, the pressure will be on each team's defense to make the difference this Thursday.
On paper the Bengals defense seems better, although they are giving up more points per game than the Dolphins. Currently Miami gives up 22.3 points per game, while Cincinnati's opponents are gaining 25. Yardage wise the Bengals are superior. Right now Cincinnati is only giving up 356.3 yards per game while Miami is giving up a whopping 415. Statistics aside, most fans would expect the Bengals to be the clear favorite in this contest for your bet on NFL Thursday Night matchups. However the Bengals offense hasn't been as impressive as expected and that goes double for their defense. The Dolphins could provide Cincinnati with an opportunity to work out the kinks – or they could deliver a crushing upset.