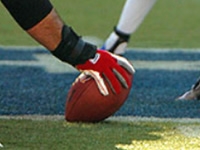 The undefeated Arizona Cardinals 3-0 were defeated early on Sunday, October 5, in Week 5 of the NFL by the Denver Broncos 2-1. Peyton Manning threw his 500th TD pass in the game as the Broncos crushed the Cardinals 41-20 at the Sports Authority Field at Mile High, Denver, Colorado.
The NFL record for TD passes is held by former Green Bay Packer QB Brett Favre at 508 touchdowns and now QB Manning only trails Favre by 5 touchdowns which he should easily surpass this season, barring injury to become the all-time leader. His 500th TD came to him his 244th NFL game which is 49 fewer games that it took Favre to reach 500 touchdowns. In this game QB Manning also helped WR Thomas set a franchise record with 8 receptions for 226 yards. Thomas had touchdowns of 31 yards, 86 yards and a 77 yard TD cancelled as a Bronco player was called for a chop block on the play.
Once again the game statistics indicate the best team as the Broncos had 24 first downs accumulating 568 offensive yards on 76 plays with 476 passing and 92 rushing with QB Manning being intercepted twice. The Cardinals had only 9 first downs and a total of 215 offensive yards on 56 plays with 178 yards passing and a mere 37 yards rushing with no interceptions or turnovers.
The team leaders in the game were: For the Broncos QB Manning completed 31 of his 47 passes for 479 yards and 4 touchdowns with 2 interceptions. RB's Hillman & Thompson combined for 18 carries for 79 yards with Thompson scoring a TD. Receivers Thomas & Welker combined for 15 receptions and 327 yards with Thomas scoring 1 TD. For the Cardinals their QB Stanton completed 11 of his 26 passes for 118 yards while back up QB Thomas completed 1 of 8 passes, one for 81 yards for a TD to RB Ellington. RB Ellington & Taylor had 17 carries for 79 yards and 1 TD while Receivers Ellington and Fitzgerald had 7 receptions for 169 yards and a TD.
The scoring in the 1st quarter saw the Cardinals score 2 FG's for 6 points while Denver scored a TD for 7 points. The 2nd quarter Arizona scored a TD for 7 points and Denver scored a TD for 7 points. In the 3rd quarter the Cardinals scored a TD for 7 points while Denver was only able to muster a FG for 3 points. The 4th quarter told the tale as the Cardinals were shutout for 0 points, while the Broncos had an early FG, and then 2 touchdowns for 17 points. With the final score the Cardinals 20, and the Broncos 41.
An amazing fact in the game was that Bronco QB Manning's 500th TD came against two of his previous coaches who are both on the Arizona Cardinals staff. His first QB coach in 1998 who now is Arizona's Head Coach Arians and his former Colt offensive coordinator for 13 years, Tom Moore, who now is the Cardinals assistant head coach. It's a small world. QB Manning said, "I give both of those men, a lot of credit for helping me improve, as a quarterback."
The Cardinals struggled in this game with backup QB Stanton left the game with a concussion and the Arizona defense gave up some 568 yards to the Broncos which is the most the team has allowed an opponent since back in 1973. Stanton was replacing starting QB Palmer, who was being treated for an arm injury.
No serious injuries reported at the conclusion of this game, and the 86 yard pass that QB Manning threw in the game tied his career best, which was set back in 2001 when he hit Pollard for a 86 yarder, in a game with the Colts against the Saints.
The Denver Broncos now 3-1 (2nd AFC West) plays at the New York Jets 1-4 (4th AFC East) with the game at MetLife Stadium at East Rutherford, New Jersey on Sunday the 12th of October 2014 at 1PM ET and on CBS TV. Meanwhile the Arizona Cardinals now 3-1 (1st NFC West) plays the Washington Redskins 1-3 (4th NFC East) who played the Seattle Seahawks 2-1 (2nd NFC West) on Monday Night Football the 6th of October.
If you bet on NFL games at an Offshore Betting installation, keep check on the odds for the Broncos and Jets game as Denver is a early favorite at -7 (-115) with Ov/Un 47 and the ML -360.