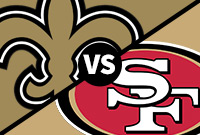 The New Orleans Saints will attempt to defeat the ailing San Francisco 49ers on Sunday, November 6th at Levi's Stadium. These are the online
sportsbook odds
for people who bet on NFL:
Saints -3 (-115) 51 (-110)
49ers +3 (-105) 51 (-110)
The
Saints (3-4) held off the Seattle Seahawks
30-25 on Sunday. The one true Drew Brees went 27 of 35 for 265 yards with one TD pass to wide receiver Brandin Cooks, and ran for one yard and another score. New Orleans controlled much of the first half and was ahead in several stat categories, including yards, first downs and time of possession, but were nonetheless behind by one point at halftime. The Saints ran 35 times and passed 35 times; not the strategy fans who bet on NFL would expect from a team that entered the game with a 2nd ranked passing offense and 28th ranked running game. However, it worked and that's really what matters.
The Niners (1-6) were on bye this Sunday. They most recently played and lost to the Tampa Bay Buccaneers. Colin Kaepernick threw 16 of 34 for 143 yards with one TD and one interception. However, the 49ers' problems do not end with the quarterback spot. San Francisco has allowed 562 on the ground the previous two weeks which puts them on a course pace to give up the most yards rushing in a season since the New England Patriots in 1981. Kap is expected to start again versus the Saints, despite completing fewer than 50% of his passes for the second week in a row. Other than
the Buffalo Bills
, the Niners are the only team in the league averaging less than 200 passing yards per game.
Kaepernick's 6.2 passer rating for the season is a little below Blaine Gabbert's 69.6 he accumulated during his 1-4 start before being demoted. The lowest completion rate among qualified starting quarterbacks is Ryan Fitzpatrick's 57.4%. Kap has completed just 46% of his throws during the last two weeks, putting his accuracy in doubt. On the plus side, he has led the 49ers in rushing in his two starts.
The Saints are 1-2 on the road this season, but win, lose, or draw; they do cover the spread out of Mercedes-Benz Superdome. As a matter of fact, they are the only team in the league that is undefeated against the spread. The Niners, on the other hand, are 1-6 against the spread, which they only covered in week 1. According to ESPN The Magazine, the 49ers are the worst franchise in North American pro sports. This ranking, derived from responses of more than 72,000 fans to a questionnaire grading their home teams on 25 criteria, is a reflection of the rough patch that the Niners are currently in. But retired QB Boomer Esiason probably summed it up best when he said he would "myself and hire Jim Harbaugh" of he were the 49ers' general manager. That is a sentiment that many people who bet on NFL surely can get behind.