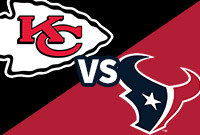 The Houston Texans will encounter their first true test of the season when they host the Kansas City Chiefs at NRG Stadium on Sunday, September 18th. Here are the
odds for people who bet on NFL
:
Chiefs +1½ (-105) 43½ (-110)
Texans -1½ (-115) 43½ (-110)
The Kansas City Chiefs had the largest comeback in the history of the franchise
in a week 1
overtime win over the San Diego Chargers. Led by QB Alex Smith, Kansas City overcame a 17-point deficit in the fourth quarter to defeat the Bolts 33-27. Smith finished 34 of 48 for 363 passing yards and two TDs, the second of which was a back-shoulder fade to wide receiver Jeremy Maclin with nine minutes remaining in the fourth. Cairo Santos converted a 33-yard field goal a couple of minutes later, and after forcing a three-and-out, Spencer Ware culminated a four-play drive with a touchdown plunge to tie the proceedings at 27 apiece. The Chiefs needed 10 plays to march 75 yards in overtime, and Smith himself scored the winning touchdown.
The Houston Texans had a comparatively easier time with da Bears, whom they beat 23-14 as expected by people who
bet on NFL
at a football betting site. Brock Osweiler's first pass as the Texans' starting QB was an interception, but then he remembered he signed a $72 million contract and started playing accordingly. The once Peyton Manning backup completed 22 passes to eight different receivers including rookie Will Fuller – who became the first player in Texans history to post 100 receiving yards in his debut with 107 and a TD. Additionally, running back Lamar Miller rushed 106 yards in his first game in Houston. Defensively, J.J. Watt didn't seem as effective as he used to be before back surgery, and struggled with Bears guard Josh Sitton.
The win over the Bears could be the first step in a very strong regular season start for the Texas. As fans who bet on NFL should know, the season-opener kicked-off a five-game home stand for the Texans. But they will have to deal with the Chiefs first, who know a thing or two about spoiling a party in Houston. The Texans won the AFC South last year, but were shutout 30-0 at NRG Stadium by the Chiefs in the Wild Card round of the postseason on January 9th, 2016. Of course, on that occasions Brian Hoyer – who ironically (though not really) is now with the Bears – was under center for the Texans, and was booed all afternoon long by the local crowd. Somewhat justifiably, since that was the first home playoff loss for the Texans. Meanwhile, Smith threw a touchdown pass and running back Spencer Ware added a 5-yard run on the first play of the fourth. Kansas' defense harassed Hoyer into a fumble and three of his career-high four interceptions. All things considered, the Texans do not lack two things heading into this Sunday; the motivation to get back at the Chiefs, and a good quarterback.