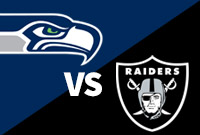 The Seattle Seahawks will visit the Oakland Raiders to give fans who bet on NFL one last chance to put some money on them – for the preseason, that is. These are the NFL
online betting
odds for the game on September 1st at the Oakland Alameda Coliseum:
Seahawks +1½ (-105) 38½ (-110)
Raiders -1½ (-115) 38½ (-110)
The Seahawks are 2-1 in the preseason, most recently defeating the Dallas Cowboys 27-17 in week 3. QB Russell Wilson and Seattle's top offense played into the second half and scored on four of its last five possessions – including a couple of touchdown passes by Wilson. First, he hit wide receiver Paul Richardson on a picture perfect 9-yard crossing route in the second quarter. Then, Wilson improvised, spun, scrambled – and presumably shook and baked – and found Tyler Lockett on a 9-yard toss halfway through the third quarter on his final play. Wilson completed 16 of 21 for 192 passing yards, while running back Christine Michael averaged 8.3 yards per carry as the Seahawks got their running game off the ground in the second half.
As for the Raiders, their defense could not crack the riddle that the Tennessee Titan's
QB Marcus Mariota
was in week 3. Mariota kept Oakland at a loss all night long, faking out D.J. Hayden on an option run and besting the Raiders' top CB Sean Smith on a couple of plays. Smith almost intercepted a pass to Tajae Sharpe on the opening drive and safety Nate Allen celebrated prematurely. Sharpe, however, caught the ovoid and got by the oblivious Allen for a 60-yard gain that set up a 1-yard run by DeMarco Murray. Oakland lost the game 27-14. The Raiders have not come through for those Oakland fans who bet on NFL, having also lost to the Green Bay Packers on week 2 of the preseason after opening with a 31-10 win over the Arizona Cardinals on August 12th.
Interestingly, these two teams faced each in their preseason closer a year ago as well. On September 3rd, 2015 at the Century Link Field the 'Hawks defeated the Raiders 31-11. Wilson hit Lockett with a 63-yard TD pass, defensive end Frank Clark had a sack and forced fumble that Jordan Hill recovered for a touchdown, and wide receiver Kasen Williams caught a 15-yard touchdown reception from WR/QB B.J. Daniels – currently with the Chicago Bears – in the third quarter for another TD. Finally, kicker Steve Hauschka made a 55-yard field goal. The last time that the Raiders have gotten the best of the Seahawks was on August 28th, 2014 – yet another preseason game in which then-rookie QB Derek Carr tossed three TD passes in a 41-31 victory over Seattle. That was a couple of years ago, though. Moreover, the 'Hawks are among the favorites of people who
bet on NFL
to win Super Bowl 51, while the Raiders haven't made it to the postseason since 2003. Then again, it is the final game of the preseason so anything might happen.