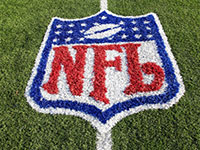 Super Bowl XLIX will put the swarming and ferocious defense of the Seahawks of Seattle up against the very high efficiency and prolific offense of the Patriots of New England. If you are a fan who will bet on the Super Bowl at SBG Global, we present some statistics and facts that you should be aware of before you jump into the gambling odds in this Super Bowl game.
First is the incredible history of the Super Bowls, as this 49th version will be the 1st time in NFL history that neither the Patriots or the Seahawks have a 1st round draft pick in their skill positions on offense, which are QB, RB, WR and TE. Since the beginning of Super Bowls back in 1967 each game has had at least on 1st round draft pick participating those teams at the positions of skill. This match-up is also the first Super Bowl that does not feature a 1st round drafted QB since Super Bowl XXXVIII back in 2004 with the Panthers and Patriots.
Secnd is the pressure on the QBs, and how they perform normally parts the good over the bad and the elite from those that are just above average. So, we look at how the Seahawks QB Wilson and Patriots QB Tom Brady reacted when pressured during the regular season playoffs of 2014.
On drop back Wilson had 273 attempts, was hit 3 times as he was throwing, had 5 touchdowns and 4 interceptions, under pressure 44.9 % of the time, sacked 17.2 %, completed 46.1 % and his accuracy rated at 66.7 %.
Brady on drop back had 197 attempts, was hit 11 times while throwing, had 4 touchdowns and 7 interceptions, under 28% of the time, sacked 11.7 %, completed 45 % and accuracy for Brady rated at 61.6%. It appears QB Wilson must be more of an improviser as their offensive line is not nearly as strong as the Patriots. The accuracy of QB Wilson is a bit better than QB Brady's and with a positive TD/INT ratio, but these 2 QB's under pressure has almost identical statistics.
Third, we look at the pass rush to see how the QB make out under pressure, and how many times the teams pass rush has taken on the opposing QB during 2014 regular and postseason play. In this match-up the Seahawks have the best pass rush, which is technically correct, but the Patriots are very close statistically. The Pressures in a game are sacks, hits and/or hurries to a QB.
The Seahawks pass rush has 250 pressures on 710 drop backs and the pressure percentage is 35.20%. The Patriots Pass rush as 238 pressures on 639 drop backs for 37.24% pressure. New England has 1 sack in the playoffs, while Seattle has 2 in three games in 2014. This indicated the trench battles on edge will have big impact on the outcome of this XLIX Super Bowl game.
Fourth, the cornerbacks in this game can be of utmost importance and each team has a mainstay, with the Patriots CB Revis and the Seahawks CB Sherman, and both have been in the top ratings for several years. Thus we will look at the stats for 2014 including the playoffs.
Sherman has had 72 targets and allowed 34 receptions that went for 473 yards and 1 TD and completed 6 interceptions. Revis had 84 targets and gave up 43 receptions for 579 yards and 3 touchdowns and 3 interceptions. In this match-up neither team has No.1 outside receivers, so Seattle would be wise to put their Sherman on the Patriots TE Gronkowski when they split him from their formation in this game. Because of the physical nature of both Sherman and Revis against the super quick but small WR's of both teams, could prove to be extremely interesting because of their play style and size.
Fifth, this game has some rugged runners in Seattle's RB Lunch, presently the most famous back in the NFL, and maybe the most unique also who is easily underrated, but is power runner that is very shifty, and very seldom tackled on first contact by opponents. The Patriots RB Blount is not as well known but can be equally as agile and rugged when he has the ball. So let's take a look at the comparison.
Seattle RB Lynch had 319 carries and 41 catches and averaged 3.11 yards after contact, and created 109 missed tackles on his run, and had 13 missed tackles after catching passes. Patriots RB Blount had 93 carries with less game time, 4 catches, but average 3.17 yards after contact per rush, and created 18 missed tackles, and after a reception had 1 missed tackle. The Patriots big Back and the 3.17 yards after contact are 1st in the NFL with RBs with 55 carries or more.
So if you bet on the NFL football at an online sportsbook, remember that both of these team will not shy away from running the ball in this game, as both have bruising RB's that could make a difference in the outcome of this XLIX Super Bowl game next Sunday!