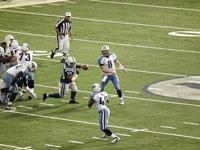 With the NFL 2015-16 Preseason underway and with just 1 preseason game on Sunday its necessary for us to preview the game on the 16th of July 2015 between the Colts of Indianapolis and the Eagles of Philadelphia that will be played at the Lincoln Financial Field in Philadelphia, Pennsylvania with kick-off at 1 PM ET.
This game should be a real exciting game for the fans as 2 of the 2014-15 seasons best offenses, after a long and most interesting offseason this 2015. This will be the final game of the 1st week of the NFL preseason. Both teams made a lot of commotion in their offseason changes, trades and contracts, so stay with as we take a look at these two re-organized teams tomorrow Sunday afternoon.
The opening latest Vegas odds has the Eagles of Philadelphia favored at -4 with the O/U at 41 ½ and -185 on Money Line, while the Colts of Indianapolis are +4 and +165 on the Money Line!
If you Bet On NFL at an Online betting site and are a fan of the Colts of Indianapolis, your team now consists of some old and young players on their team roster with some injuries, and that puts them in a difficult position in this preseason, in order to test their depth at all positions.
But we don't think that's a big worry for the Colts, as their offseason crazy deals with signing veterans, should be the first thing in order, regarding testing prior to the NFL regular season. Two of those are RB F. Gore and WR A. Johnson who are aging players who must become familiar with the Colts system before the season 2015-16 seasons begin. Then they need a good work-out in the preseason with their 1st round draft pick in WR P. Dorsett who for the Hurricanes of Miami for 3 seasons had 17 TD's on 120 receptions that went for some 2.135 yards. He will create a challenging situation with other WR's in Johnson, T. Hilton and D. Moncrieff to see who the starters will be.
On defense they made few changes to their young and talented roster other than the signed out of free agency T. Cole who in for the Eagles in 2015 force 3 fumbles and had 6.5 sacks. Cole was added to the team, to upgrade the Colts present LB roster. On Sunday Cole will go up against his team of 9 years in the Eagles.
For the Eagles of Philadelphia fans you know your team made a lot of win early moves in the offseason as their coach decided to acquire players returning from ACL injuries like S. Bradford and K. Alonso. Alonso missed the completed 2014 season with the ACL injury, but his 2013 stats showed 87 tackles, 2 sacks, 2 recoveries and 1 fumble forced and 4 interceptions as a lineman.
Joining Alonso on the defense are 3 CB's who are rookies with E. Rowe, R. Evans and J. Shepard, while Shepard himself has suffered an ACL injury, so now the starting CB will be up for grabs by Rowe and Evans to accompany B. Maxwell.
However, the biggest concern for the Eagles is their QB starter S. Bradford who when healthy for 2 season he threw for more than 3,510 yards, and if he has another injury ending this season, we don't expect him to take many snaps on Sunday if any. Taking a precautionary move the Eagles may start M. Sanchez or even T. Tebow instead.
On the offensive we expect their rookie WR N. Agholor will be their starter, as in his senior year at USC he scored 12 TD's on 105 receptions for a total of 1,315 yards, and to date has proven in sessions to be ready to be a starter, even on their special teams this season, because with the Trojans in his 3 season career he had 24 TD on the return with 4 on kickoffs and 20 on punt returns.
The prediction is that the action in the game will fly after the coin flip, and at home the Eagle of Philadelphia will barely beat the Colts of Indianapolis 34-31 in this preseason game.