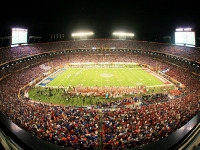 After the season Tom Brady has had, now he has to run the extra mile and take the Patriots all the way. This will be quite the task as he's running up against those pesky New York Giants again in Super Bowl XVLI. After all, these are those same New Yorkers who shocked the world when they upended the Patriots and their chance at the perfect season 17-14 in Super Bowl XLII. Head coach Bill Belichick and Tom Brady both will have these prior instances kicking around in the back of their minds when they go to battle in Indianapolis.
Since we're talking about Indianapolis, Manning fever will be everywhere. From Eli looking to lead the Giants to another victory over the Pats to brother Peyton and father Archie looking on from the stands. Both of these teams are experiencing a bit of deja vu this season with both having similar seasons that they did in 2008. Will these similarities manifest itself in another win for the Giants? Time will tell, Vegas has this currently at the Giants -3 with an over-under set at 55 points. Check the XLVI Super Bowl Odds
The Giants passing game looks to wreak havoc on the secondary with Hakeem Nicks looking to make more great plays at wideout. Ahmad Bradshaw and Brandon Jacobs had a great game against the Falcons in the NFC Wild Card Game three weeks ago. They're both looking to try and make a name for the running attack, which has been dormant most of the season. The Patriots live and die by the right arm of Tom Brady. Wesley Welker is looking to improve on his stellar season matching his best seasons of 2007-2009. This looks to shape up as another classic in the making between these two great teams. Look for firepower from both teams as they try to put up points in a hurry.
Open an account for the best Sportsbook Parlay and Vegas Teaser Payouts in the Industry.