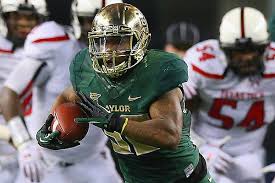 As the NCAA FB 2014 regular season is ready to start this next weekend, it's interesting to take a look at college football's top trio. That includes the quarterback, the running back and receiver positions.
With so many young college players leaving their schools early to join the NFL, finding this combination and/or getting a trio to return from last season is no easy task.
Having said that, it happens to be one reason the Bears of Baylor have the top trio starting the season. Statistically speaking, they have a Top 5 quarterback in Petty, a Top 7 wide receiver in Goodley, and a running back in the Top 25 with Linwood. Even without Goodley the Bears have many returning quality receivers so they would still have one of college football's top trios.
In order to rank the players via a formula, the players that are returning had to be broken into several categories, and then nationally ranked against other players in their positions that are returning for the 2014 season.
The returning 2013 Champions FSU, like Baylor, lost their top running back from 2013, but the team still has some very talented running backs that still rank them with the No. 2 Trio in 2014. Then, tied for No. 3, are the Indiana Hoosiers and Southern Cal Trojans. At No. 5 are the Houston Cougars, No. 6 is the Arizona State Sun Devils, No. 7 the Temple Owls, No. 8 the Michigan State Spartans, No. 9 the Northwestern Wildcats, and No. 10 the Auburn Tigers. Then one might ask what about the Oregon Ducks, who have QB Mariota – a leading Heisman candidate? They are not in the top ten as their receiver Addison is expected to miss 2014 with a knee injury and their top receiver, tight end Mundt, is only ranked 147th of college returning pass receivers.
Now there is another ranking of college football trios where the quarterbacks where ranked on the composite of attempts, yards per attempt, yards each game, points per pass, interceptions per pass and efficiency rankings. The running backs were ranked on a composite of carries, touchdowns, yards gained per rush and per game and points for each carry. Then the receivers ( wide receivers and tight ends) were ranked on a composite of receptions, total yards, yards each game, touchdowns, receptions each game and points for each reception.
Thus the nationwide top college football Trio rankings by individual positions for Quarterback, Running Back and Wide Receivers are:
Bears of Baylor with QB Petty 5, RB Linwood 33 and WR Goodley 7 with 15.0 total average points.
Seminoles of Florida State with QB Winston 7, RB Williams 77 and RB Greene 21 with 24.0 total average points.
Hoosiers of Indiana with QB Sudfeld 17, RB Coleman 17 and WR Wayne 39 with 24.3 total average points.
Trojans of USC with QB Kessler 14, RB Allen 30 and WR Agholor 19 with 24.3 total average points.
Cougars of Houston with QB O'Korn 20, RB Jackson 58 and WR Greenberry 16 with 31.3 total average points.
Sun Devils of Arizona State with QB Kelly 16, RB Foster 72 and WR Strong 25 with 37.7 total average points.
Spartans of Michigan State with QB Cook 20, RB Langford 20 and WR Lippett 75 with 38.3 total average points.
Wildcats of Northwestern with QB Siemian 26, RB Payne 62 and WR Jones 55 with 39.7 total average points.
Tigers of Auburn with QB Marshall 26, RB Artis 62 and WR Coates 35 with 40 total average points.
Utes of Utah with QB Wilson 24, RB Poole 81 and WR Anderson 20 with 41.7 total average points.