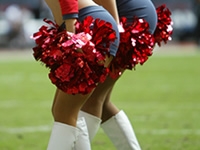 The five teams we are briefly recapping today for Saturday's Week 7 NCAA FB games include No. 1 FSU, No. 2 Auburn (lost to No. 3), No. 3 Mississippi State, No. 4 Ole Miss, and No. 5 Baylor.
The No. 1 Florida State Seminoles 6-0 (1st ACC Atlantic) who beat the Syracuse Orange 2-4 (5th ACC Atlantic) 38-20 at the Carrier Dome in Syracuse, New York.
FSU QB Winston scrambled to stay out of trouble Saturday to continue his offense, and completed 30 of his 36 passes for 317 yards, which was his 5th 300 yard passing game while on the road. RB Pender scored twice in the game TD Leary had 8 receptions for 97 yards and TD, a career high. Receiver Greene had 6 receptions for 107 yards as he became FSU's all-time leader of receptions. The Seminoles, with this their 22nd consecutive win, it's the longest streak in the nation, and now 19 games won in a row in the ACC conference.
The Syracuse Orange is now 2-4 as they lost their 4th consecutive game, again struggling offensively in the red zone, only scoring 1 TD in four times inside the FSU 20, with two rookie QBs who threw 21 of 36 passes for 412 yards, but threw three costly interceptions.
FSU had 29 first downs for 482 yards, with 317 passing and 165 rushing yards. They had 6 penalties for 36 yards and 2 turnovers. Syracuse had 20 first downs with 412 yards on 256 rushing and 156 passing. They had 7 penalties for 64 yards and 3 turnovers.
FSU 6-0 plays No.6 Notre Dame Fighting Irish 6-0 (FBS Independents) on Saturday, Oct 18th in Tallahassee at 8PM at the Doak Campbell Stadium in Tallahassee, Florida. Meanwhile, Syracuse 2-4 plays at Wake Forest Demon Deacons (5th ACC Atlantic) at the BB&T Field in Winston-Salem, North Carolina at 12PM ET on ESPN TV.
---
The No. 2 Auburn Tigers now 5-1 (3rd SEC West) lost to the No. 3 Mississippi State Bulldogs 6-0 (1st SEC West) 38-23 thus the No. 3 team knocked off the No. 2 team and we wait to see the week 8 Top 25 rankings. The Bulldogs QB Prescott ran for 2 touchdowns and threw 1 TD this Saturday night at the Davis Wade Stadium in Starkville, Mississippi. He completed 18 of his 34 passes for 246 yards and he rushed for 121 yards, while RB Robinson rushed for 97 yards and 2 touchdowns and WR Wilson had 4 receptions for 72 yards and a TD.
The Auburn Tigers QB Marshall was 17 of 35 for 209 yards and also had 17 carries for 100 yards and was intercepted 2 times. The Tigers scored 2 touchdowns on receptions and no touchdowns rushing. Both teams had 4 turnovers in the game with the Bulldogs capitalizing on the Tiger turnovers. This loss was for the defending SEC Champ's if their 1st since losing the last National Championship game to FSU.
The Bulldogs are hoping that this win will put them as No. 1 in the upcoming Week 8 top 25 rankings over present reigning champions and No.1 FSU.
Mississippi State 6-0 plays at the Kentucky Wildcats 5-1 (2nd SEC East on Saturday, Oct.18th at Tiger Stadium in Baton Rouge, Louisiana at 7:30pm. The Auburn Tigers 5-1 play the South Carolina Gamecocks 3-3 (5th SEC West) at the Jordan-Hare Stadium in Auburn, Alabama on October 25th 2014.
---
The No. 4 Ole Miss, now 6-0 (1st SEC West) beat the No.14 Texas A&M Aggies now 5-2 (5th SEC West) 35-20 at the A&M Kyle Field in College Station, Texas this past Saturday, Oct. 11th 2014.
Actually the Ole Miss Rebels were tied for the No.3 ranking this week, but to simplify things we put Ole Miss at No.4, as they for the first time since back in 1962 have a 6-0 season start. The Rebels QB Wallace ran for 2 touchdowns and passed 13 of 19 for 178 yards and another TD, while their defense added 2 TD as they continue their winning streak after last week's win over Alabama. This was also their first win against Texas A&M in the last seven meetings.
Aggies QB Hill completed 42 of 53 passes for 401 yards and was intercepted 2 times in the game. The Aggies opened the season 5-0 and this game was their second consecutive loss with three turnovers in this game. The Aggies came into this game averaging some 47.7 points per game which was third in the nation, but had little offensive production until the 4th quarter of the game which turned out to be too, little too late.
A comparison of the game statistics might give you a different impression as the Aggies had 27 first down with 455 total yards on 401 passing and 54 rushing with 3 costly turnover and 6 penalties for 52 yards. The Rebels had 17 first downs with 338 total yards on 178 passing and 160 rushing with no turnovers and 2 penalties for 20 yards.
The Aggies now 5-2 play at the Alabama Crimson Tide 5-1 (3rd SEC West), who were No. 7, on next Saturday, Oct.18th at 3:30 PM ET and on CBS TV. The Ole Miss Rebels play the Tennessee Volunteers 3-3 (6th SEC East) also on Saturday at 7PM ET on ESPN TV at the Vaught-Hemingway Stadium in Oxford, Mississippi.
---
The No. 5 Baylor Bears 6-0 (1st Big 12) beat the No.9 TCU Horned Frogs 4-1 (6th Big 12) as Baylor came from behind 21 points in the last 11 minutes, to beat the Horned Frogs 61-58.
TCU scored 2 touchdowns (14 points) in 1st, 2touchdowns and FG in 2nd, (27 points), a TD and 2 FG's (13 points) in 3rd, and 2 touchdowns (14 points) in the 4th quarter for their 58 points. Baylor scored a TD and FG (10 points) in 1st, 2 touchdowns and FG (17 points) in 2nd, a TD and FG (10 points) in 3rd and 3 touchdowns and a FG (24 points) in the 4th quarter for their 61 winning points.
Again a comparison of the statistics gives one a different outlook on the game as the Bears had 39 first downs and 782 yards on 510 passing and 272 rushing with 3 turnovers with 12 penalties for 117 yards. The Horned Frogs had 23 first downs with 485 yards with 346 passing and 139 rushing with 1 turnover and 8 penalties for 110 yards.
The game was tied at 58-58 with seconds to go when Baylor's Callahan kicked a FG of 28 yards as time expired, as they scored 24 points in the last 11 minutes for the victory. Senior Bears QB Petty passed for 6 touchdowns and RB Chafin scored 1 TD as the two Receivers for Baylor each had 2 touchdowns in the game.
So, let's see what next week brings for the Top 5 rankings for those that bet on college football at an offshore sportsbook as next week the Bears of Baylor play at the West Virginia Mountaineers 4-2 (4th Big 12) on Saturday, Oct.18th at Milan Puskar Stadium in Morgantown, West Virginia at 12PM ET on Fox TV.