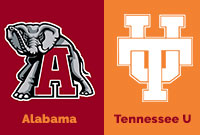 The Alabama Crimson Tide is the NCAA football betting favorite to beat the Tennessee Volunteers on Saturday, October 15th (the vaunted Third Saturday in October) and extend its dominance of the rivalry to 10 games. Here are the
online sportsbook odds for the game
at Neyland Stadium in Knoxville:
Alabama -13 (-110) 57 (-110) -500
Tennessee U +13 (-110) 57 (-110) +400
Speaking of streaks, the Tide won its 18th straight game in week 6, and 10th
against the Arkansas Razorbacks
, 49-30. Bama QB Jalen Hurts went 13 of 17 for 253 yards and two TD passes to Damien Harris – who had 122 yards on 13 carries – and Calvin Ridley, and ran for 20 yards on 8 carries for an additional two scores. Linebacker Tim Williams and safety Minkah Fitzpatrick scored the Tide's eighth and ninth non-offensive TDs of this season. Fitzpatrick's came on a career-best third interception of the night, which he returned 100 yards in the fourth quarter. Alabama's uncharacteristic three turnovers were more than made up by five forced TOs.
The Vols went to two overtime periods against the Texas A&M Aggies and finally ran out of luck in a 38-45 loss – their first of the season. Tennessee had six TOs which translated into a 21-point lead by the Aggies in the third quarter. The Vols nonetheless managed to tie the game at 35 with Joshua Dobbs lone TD pass to running back Alvin Kamara with 41 seconds remaining. Unfortunately for the Vols, Dobbs threw an interception in the second OT for the team's seventh and condemning turnover of the game. The Vols somehow managed to cling to the 9th spot, but their come-from-behind shtick seems to have run its course and will not be enough against NCAA football betting powerhouse Alabama.
Running the ball against the Tide is much easier said than done – especially with LB Reuben Foster on duty – but a returning Jalen Hurd could improve the Vols' prospects, though Bama ranks 11th in the nation allowing only 15.8 points per game. On defense, Tennessee allowed 353 yards against the Aggies, and as good as Texas QB Trevor Knight is, he doesn't run the ball near enough as well as Hurts does – not to mention the Tide's running corps.
That being said, this is a rivalry game and one that the Vols have been eagerly expecting since the schedules came out. The Volunteers will be out to rebound from a loss, snap a rivalry losing streak, and prove that they can be SEC contenders, and will have the home field advantage. . Tennessee has not beaten Alabama since October 21st, 2006. Aon the other hand, the Tide has not lost to any team since Ole Miss on September 19th, 2015. Alabama has been firmly entrenched in the no. 1 spot in both polls and is a perennial NCAA football betting favorite. The point being that the Vols might come closer than any other college this season, but the Tide is bound to win a 10th consecutive game against the Volunteers, and 20th in a row overall.