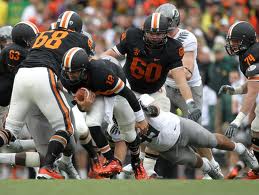 This Thursday, the 16th of October, the No. 20 Utah Utes 4-1 (4th Pac 12 South) play the unranked Oregon State Beavers, who are also 4-1 (3rd Pac 12 South). The game will be played at the Reser Stadium in Corvallis, Oregon at 10PM ET on Pac 12 Network. Let's preview the betting matchup.
The Utah Utes are favored in the game at -2 ½ with no early totals, but the ML is -135 on the Utes. Now the Utes after beating a top ten team, No. 8 UCLA 30-28 on the road, then having a bye week, they are no ready to travel to Oregon and take on this Pac 12 rival Oregon State.
The team leaders for Utah are QB Wilson, who has completed 58 of his 101 pass attempts for 788 yards and 7 touchdowns. Their RB Booker has had 88 carries, gaining 513 yards and scoring 4 touchdowns while receiver Anderson has 15 receptions to date, for 290 yards and 4 touchdowns. The Beavers leaders are QB Mannion, who has completed 118 of his 182 passes for 1,304 total yards and 5 touchdowns. RB Ward to date has 59 carries for 343 total yards and scoring 6 touchdowns, while Receiver Bolden has 24 receptions to date for 230 total yards and 1 TD.
The No. 20 ranked Utes are off to their best start since back in 2010 when they started their season 8-0, and this year strive to beat the Beavers of Oregon State who they lost to in 2013.
The Utah Utes, even as they enjoyed a bye week still moved up 4 spots for the week 8 AP poll. Their defensive lineman Orchard had 4 sacks of the 10 against UCLA and set a Utah school record. FK Phillips connected on a 34 yarder with seconds left in the game to give them the Utes the victory. Actually, Utah outgained the Bruins offensively gaining 242 rushing yards to the Bruins 137.
The Oregon State Beavers were also enjoying a bye week, after coming off a 36-31 victory over Colorado on the 4th of October, when their RB's Ward and Woods rushed for 171 offensive yards and 3 touchdowns. The week before, the Beavers lost to the then No.18 USC Trojans 35-10, which was their six straight loss, with Top 25 teams.
The team ranking for Utah is they are 5-1 SU (Straight Up) in their last 6 games, with the total going under in 10 of the Utes last 14 games. They are 4-6 SU in their last 13 games on the road, and the total in the last 5 of 7 road games went under. The Utes are 1-4 ATS (Against the Spread) in their last 5 games against the Beavers.
Then Oregon State is 5-1 SU in last 6 games, and their total in the last 4 of 6 games went under. The Beavers are 1-4 ATS in last 5 home games, and 11-5 SU in their last 16 games at home. In 4 of their last 5 home games the score went under.
The Utah schedule does not get any easier after this game with Oregon State, as they still face No. 22 USC, No. 17 Arizona State, No. 9 Oregon, No. 23 Stanford, No. 16 Arizona and unranked Colorado.
The Oregon State schedule appears to be somewhat easier with their next game, at home against the No. 23 Arizona State Sun Devils on the 1st of November.
Whether you're a Utes fan or a Beaver fanatic and bet on college football at a Offshore Betting establishment, be cautious in the coming weeks with your wagers as the season, teams and scores become more difficult to predict! Good Luck.