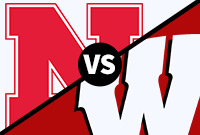 The Wisconsin Badgers are the NCAA football betting the favorites to win the Freedom Trophy against the Nebraska Cornhuskers on Saturday, October 29th at Camp Randall Stadium in Madison. Nonetheless, it will be a hard fought battle; after all, freedom isn't free – it costs a buck o'five. The
betting sportsbook
odds for the match-up are as follows:
Nebraska +8½ (-110) 43 (-110) +275
Wisconsin -8½ (-110) 43 (-110) -335
The No. 7 Huskers (7-0) defeated the Purdue Boilermakers 27-14
on Saturday. In spite of the win, Nebraska once again failed to impress against a lesser college – not only unranked but also an NCAA football betting underdog. The Huskers were down by four points at halftime, but scored on three consecutive possessions after going three-and-out on their first series of the second half. Nebraska QB Tommy Armstrong Jr. went 17 of 31 for 252 yards with one interception, but also a 40-yard TD pass to wide receiver De'Mornay Pierson-El (wonder if he's related to the Els of Krypton) that put the Huskers ahead. Additionally, wide Alonzo Moore ran for 24 yards on two carries with a score, and kicker Drew Brown made a 51-yard field goal to put the final numbers on the scoreboard.
The No. 11 Badgers (5-2) snapped a two-game losing streak and beat the Iowa Hawkeyes 17-9 on Saturday. Alex Hornibrook threw 11 of 19 for 197 yards with TDs, and Bart Houston finished 4 of 6 for 49 yards and one scoring pass to tight end Troy Fumagalli. However, it was Wisconsin's defense that pretty much won the game; they allowed only 236 yards and kept Iowa from scoring a TD for the first time this regular season. The Badgers missed two field goals and lost a fumble, but stopped the Hawkeyes 11 times on 13 third downs.
The Huskers are undefeated, lead the Big Ten West Division, and have a 7-0 record for the first time since the 2001 season – which is coincidentally the last time they contested the national championship. All of which begs the question, why are they the
NCAA football betting
underdogs this Saturday. As it turns out, it's not enough to win; you have to win in style. And Nebraska is the John Cena of college football – start on the losing end only to scrape by with the win. The Huskers have struggled against Oregon, Northwestern, Illinois, Indiana, and Purdue.
The Huskers are averaging 236.0 yards in passing and 211.4 yards in rushing per game on offense, and allowing 218.4 yards in passing and 124.4 yards in rushing per game on defense. Meanwhile, the Badgers are averaging 209.0 yards in passing and 173.0 yards in rushing offensively, and giving up 197.7 yards in passing and 102.9 yards in rushing per game defensively. Moreover, Nebraska is 13-3 against the spread in their last 16 games on the road and 5-2-1 against the spread in their previous eight games overall. Wisconsin is 4-1 against the spread in their previous five home games and 4-0 against the spread in their past four games overall.