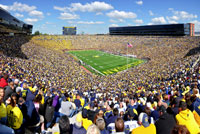 There are many times when college football bettors will take a look at games that are extremely lopsided and have some incredibly lofty odds if they are even included at a sportsbook. This is clearly the case with when a FBS team takes on an FCS team. However, sometimes a game between two FBS teams can really have high spreads.
The fourth week of action in the 2015 college season is one such week that has plenty of these games. Michigan State is a -27 favorite to beat Central Michigan, for instance. Nebraska also has a -22 line to beat Southern Mississippi.
The biggest line for this week is for Notre Dame. The Fighting Irish are -28 favorites to beat Massachusetts this week.
These are all high-scoring lines but there are clearly a number of points that could make one of these high lines questionable to any bettor:
There's always a potential for a favorite to start using backup players midway through a game, thus keeping a team from going too far ahead.

A team may also want to test out some new plays while blowing out another team. This in turn may keep the margin of victory from being far too extreme.

There's always the consideration of how a running clock may be agreed upon between both coaches at some point late in a game as well. This is where the clock will continue to run and will not stop until either a scoring play takes place, possession changes or there is an injury on the field.
Of course, there are always going to be times when betting odds might be extremely high and therefore questionable for some bettors to go after due to how extreme they are. One such example came in 2012 when Florida State was a -70 favorite to beat Savannah State, a team notorious for having a poor FCS record while renting itself out to other teams for big paydays.
Then again, there is always that potential that a game with lofty odds will be closer than it could be. Major victories by Appalachian State and North Dakota State have shown that there's never a guarantee that a team will end up having an incredibly easy time with a game. This in turn makes it to where it might be a challenge for anyone to think about placing a bet on a game with extremely high and tough odds.